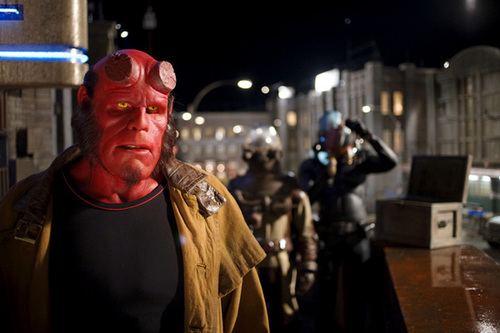 You might have seen the Variety article getting passed around the nerdocube about how director Guillermo del Toro's going to be busy until 2017, what with The Hobbit, and re-makes of Frankenstein and Slaughterhouse-Five, among others. But buried in the article is something which seems kind of newsworthy in and of itself:
Meanwhile, del Toro is awaiting word on whether Universal will embrace a follow-up to "Hellboy 2: The Golden Army." The big-budget film opened in the heat of summer and fell short of blockbuster status in the U.S. but has performed well overseas.

"I think they?ll decide when the last euro hits the piggybank," del Toro said. "We laid the groundwork to have a magnificent third act. I?d like to return to an action franchise with 60-year-old actor Ron Perlman, because he?ll be scratching at that age when I get to it."

Langley said the studio is interested and may work with del Toro to add a TV series and online segments to broaden the following before making the series finale.
A Hellboy TV series? Really? That would be awesome. Call me crazy, but I can't help but feel Hellboy is wasted on the movies?he's always going to be too unknown and too weird for mass audiences, but he'd be just right on the Sci-Fi Channel or USA or something. Plus, Mike Mignola's characters and the B.P.R.D. world are so great, they really deserve to be seen every week, as opposed to one two-hour movie every three or so years.
It's so weird how Variety just tossed this out there. Was this already known, and I was just drunk that week and missed it? Why didn't any of you bastards tell me? I blame you all.