12 Strange and Nerdy Manifestations of Peanuts
---
November 4, 2015
Artwork, Blu-ray, Books, Cartoons, Comics, Daily Lists, DVDs, Merchandise, Movies, Nerdery, Toys, TV, Uncategorized
0

Comment
6. The It Was a Dark and Stormy Night cover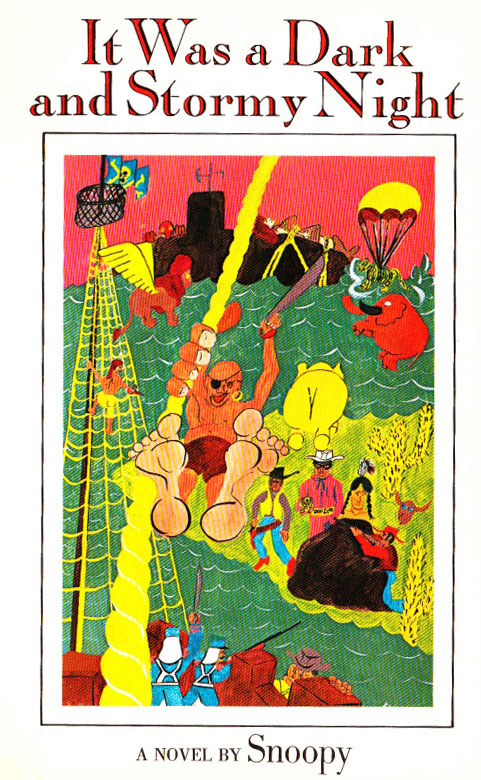 The story of "World Famous Author" Snoopy's debut novel, titled after the notorious first line of Edward Bulwer-Lytton's 1830 Paul Clifford, is detailed in Snoopy and "It Was a Dark and Stormy Night." This little Holt, Rinehart and Winston hardcover from 1971 was a great favorite of mine as a kid, especially because in between the account of the masterpiece's composition and of its publication, there's a little inset reproduction of the book itself, complete with dedication page ("For Woodstock, my friend of friends") author photo and bio, and cover illustration.
The latter was drawn by Lucy, who honored Snoopy's request for "a bunch of pirates and Foreign Legionnaires fighting some cowboys with some lions and tigers and elephants leaping through the air at this girl who is tied to a submarine." Outside the Peanuts universe, Lucy's pic was actually the work of a Mark Knowland, one of the few artists other than Schultz ever to be credited in a Peanuts print project.
5. Charlie Brown, Spelling Nerd
In the first feature-length Peanuts movie, 1969's A Boy Named Charlie Brown, the title character wins his class spelling bee, then goes on to win the all-school spelling bee and travel to New York to compete at a national level. The outcome, it should be said, is more painfully Schultzian than that of The Peanuts Movie.
A Boy Named Charlie Brown is a musical, with highly variable songs; the title song is croaked, rather creepily, by Rod McKuen. The best of the numbers, though, is almost certainly "I Before E Except After C," sung by Charlie Brown and Linus, accompanied by Snoopy on the mouth harp, as Our Hero tries to cram for the big bee. As with Schoolhouse Rock, it may not help you remember the rule, but it's a catchy tune.
4. The Invisible Charlie Brown
https://www.youtube.com/watch?v=IF9XmwRrtk0
As more and more Peanuts TV cartoons were produced, into the '80s, some of them started to get really bizarre, none more so, perhaps, than the 1981 effort It's Magic, Charlie Brown. In this one Snoopy is goaded by Charlie Brown into learning the art of magic and is so successful that he turns his master (by which I mean Charlie Brown, not whatever dark spirit from whom he has gained his powers) invisible. Actually, literally, supernaturally freakin' invisible. Snoopy's command of the occult isn't complete yet, and Charlie Brown, like Dr. Griffin in H. G. Wells, is stuck in this state. "I'm doomed to walk the earth as a lost soul," he says, without much surprise, then adds "I guess before I roam the world as a lost soul, I should feed my dog."
Good Ol' Transparent Chuck doesn't become a murderous megalomaniac like Dr. Griffin, but he does find one perk in this appalling development: He's at last able to kick the football that Lucy's holding. Presumably this was with Schultz's blessing, even though he had earlier insisted that Charlie Brown would never kick the football ("Winning is great," Schultz famously remarked, "but it isn't funny."). Maybe this only applied to the print version.
3. The (Mostly) Invisible Snoopy
Another Peanuts character did attain invisibility in the strip, however. Snoopy – who else?
In several strips starting in 1967, Snoopy shows that he can't be outdone by any feline, not even Lewis Carroll's Cheshire Cat.
2. Charlie Brown Meets Alfred E. Neumann

MAD Magazine often sent up Peanuts characters. The gang was impressively depicted as adults by artist Bob Clarke and writer Frank Jacobs in 1972, for instance, and for some unfathomable reason Linus turned up, in Arab drag and carrying a sandbox-style pail and shovel, among the archaeological diggers at the beginning of the MAD parody of The Exorcist ("The Ecchorcist") in 1974. Perhaps to return the favor, Schultz drew MAD's grinning cover boy Alfred E. Newman into Peanuts in 1973.
This was the culmination of one of the strip's oddest extended narratives, in which Charlie Brown's neurotic fixation with baseball grows so intense that he starts seeing the rising sun as a baseball, and eventually develops a rash on his head that resembles the seams of a baseball. He takes to wearing a paper bag over his head to hide the affliction while he's at summer camp, and the anonymity it gives him somehow allows him to shake his loser image. He's even elected camp president, under the name "Sack," or, as one kid who sees him as a mentor calls him, "Mr. Sack."
When the rash clears up, he awaits the sunrise, hoping that it won't be a baseball, and up comes Alfred instead. No repercussions follow this vision in the subsequent strips. Maybe Our Hero took the "What Me Worry?" Kid's motto to heart.
1. Frankenbeagle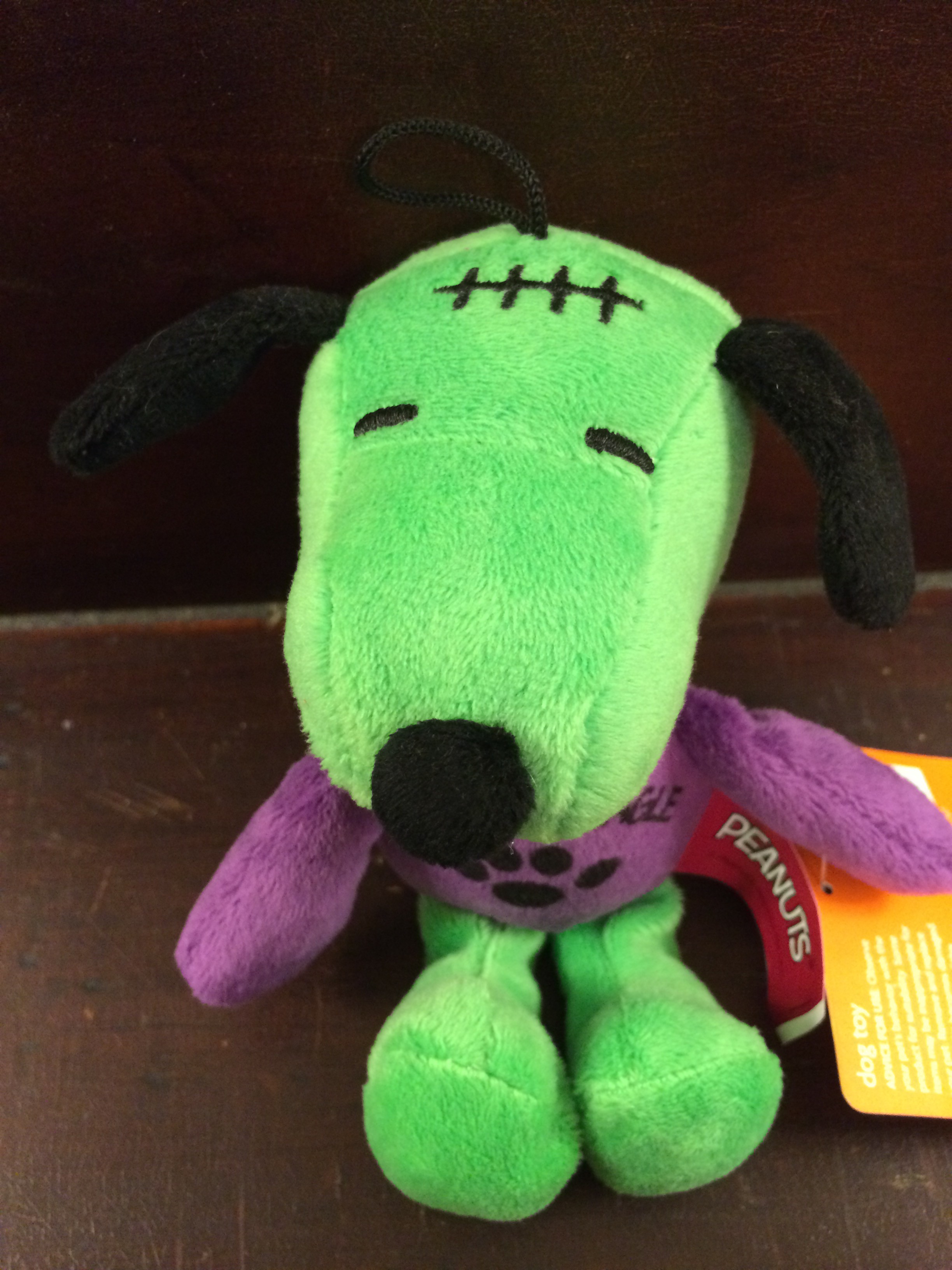 Well, if Tim Burton can do Frankenweenie, why not?
It's Snoopy, presumably reanimated from dead beagle parts. This was one of several spooky-Snoopy pet toys I found on sale, after Halloween, at PetSmart. I brought Frankenbeagle, along with Snoopy as Dracula and Snoopy dressed in a skeleton costume…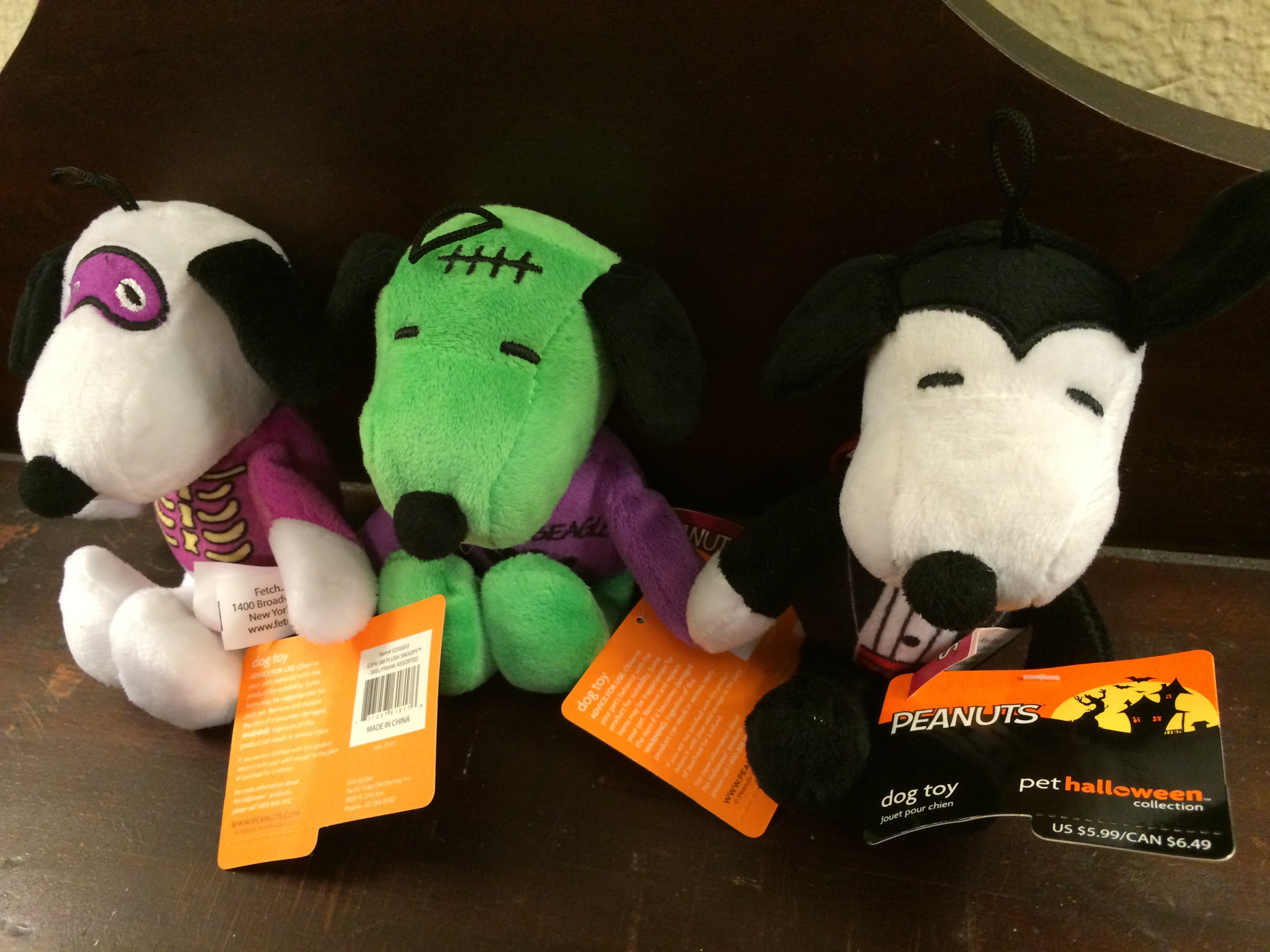 …home for my Chihuahuas. Here he is with one of his new owners: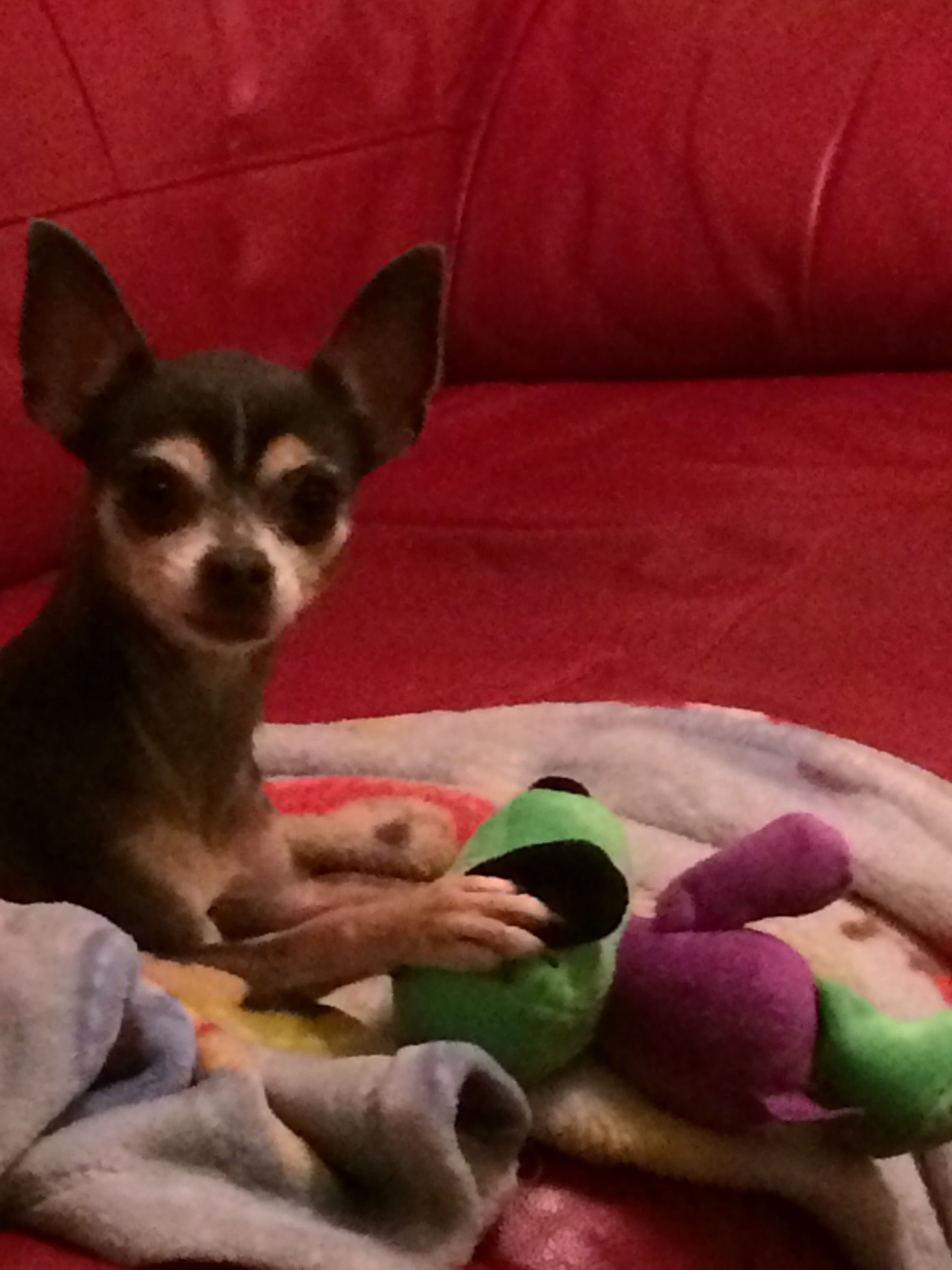 Previously by M.V. Moorhead: