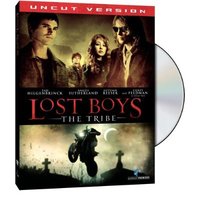 ? Stargate: Continuum
Oh, Stargate keeps on continuing. From the lackluster product description on Amazon: "Baal travels back in time and prevents the Stargate program from ever being started. SG-1 team must somehow restore history and once again save the galaxy from oppressive domination." Even the DVD package doesn't sound very excited, does it? Also available on Blu-ray.
? Dark City: Director's Cut
I remember Dark City blowing my mind back in 1998, and have nothing but fond memories of it. This edition contains both the original theatrical version and the new one with plenty of cut footage?plus, it has a review by Neil Gaiman, which I'm assuming is positive, because it would be weird to include on the DVD otherwise. Also on Blu-ray.
? Witchblade: The Complete Series
See rare footage of star Yancy Butler sober! What? Too soon?
? Robin Hood Season 2
The new BBC series, by the way. This thing sound insane. The Sherrif's sister is a snakecharmer? Marian dresses as the "Nitghtwatchman"? What the hell?
? Freakazoid: The Complete First Season
'Tis here! Thought you'd want to know.
? Lost Boys: The Tribe
The long-awaited(?) Straight-to-DVD sequel to The Lost Boys, starring both Coreys. There's no description on Amazon, so I can't tell you what the plot is. But the first user review? "I didn't hate it."

? Doomsday
By all accounts, this movie is totally unoriginal and totally awesome. If you like Mad Max-esque post?apocalyptic nonsense?and who doesn't??check it out.
? Naruto the Movie 2
Subtitled "Legend of the Stone of Gelel," which somehow doesn't excite me to the core of my being. There's so other anime being released today, but DVD Day wass too full, so go check it out at Japanator.
? Tiny Toon Adventures Season 1 Vol. 1
I know some of you are dying for this. Here it is. Now, let's never discuss this again.
? WarGames: The Dead Code
So not only is there a 25th anniversary edition of WarGames coming out today, there's this straight-to-DVD sequel that I have heard absolutely nothing about. It stars no one and has the exact same plot as the first. So if you'd like to see WarGames, but different and worse, boy, are you in luck.
? Inglorious Bastards
A 3-DVD superset of the insane war-sploitation movie that inspired Tarantino's next movie of the same name.