An Apparently Confused Bryan Singer to Remake Battlestar Galactica
---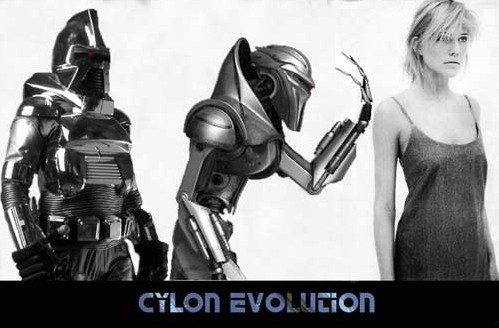 ?
I saw reports of this the other day, but they were pretty vague and it just sounded too ludicrous to be true. But here comes Variety with the baffling news that Universal Pictures has signed Bryan Singer to direct and produce a feature version of Battlestar Galactica. No, not a movie of the recent incredibly popular and critically acclaimed TV series remake that ended just last year (and is still going on, if you count the upcoming DVD movie The Plan) but an all-new remake.
Uh… the hell?
"Battlestar Galactica" appears to be on a fast track and sources
said that Singer could be looking at a $10 million paycheck to sign on
to the film.


Singer has long been intrigued with "Battlestar Galactica" and flirted
with relaunching it into a TV series right after he directed the
original "X-Men." Back in 2001 I wrote about his plan,
which involved teaming with Tom DeSanto to exec produce the series.
Singer planned to direct the pilot of the new version of a series that
originally launched on ABC in 1978 and ran two seasons. Here is what he
said at the time, comments that certainly proved prescient:

"The lesson I learned on
`X-Men' is to have a healthy respect for the fan base of sci-fi fantasy
franchises, and I'm confident that the `Galactica' brand is a sleeping
giant. It was a show I watched during its initial run, from the pilot
to the final episode. The essence and the brand name is quite potent in
a climate where there's a great deficit of scifi programming."

It wasn't immediately clear
whether [BSG remake creator Ronald] Moore would be invited to write the screenplay, but it is clear
that Singer will put his own creative stamp on the project as the
studio indicates that the film will be "a complete re-imagination."
I repeat: the hell? If you don't use Moore's series, then you don't have all those many BSG fans locked in, which is a total waste. And if you do, do you continue his series? Make a movie recapping the TV series with a few new scenes the way anime movies so often do? And thus leave all the non-BSG fans out in the cold? It just seems like a lose-lose scenario right now. Maybe in another decade or so, when you can relaunch BSG yet again and not alienate all the current fans, it would work, but not now.
Besides, isn't there a law against making a remake of something that's been remade already in the last five years or so? 10 years if it's considered popular and successful? And it there's not, shouldn't there be? (Via io9)