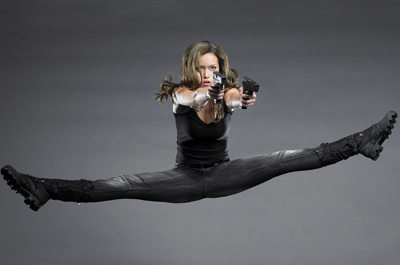 ?
I don't know why Glau wants to stay on Fox Friday nights — maybe she enjoyed Terminator: The Sarah Connor Chronicles getting canceled so much she wants to do it again — but the actress will being joining Dollhouse for its second season. From Hollywood Reporter:

Summer Glau is reuniting with Joss Whedon and joining the cast of "Dollhouse" this fall.

The
actress who starred in Fox's now-defunct "Terminator: The Sarah Connor
Chronicles" will have a recurring role as Bennett, a Dollhouse employee
who shares a secret past with Eliza Dushku's Echo.

The actress previously worked with Whedon on "Firefly." Whedon expressed interest in Glau joining the show back at Comic Con.
I know the news will please Whedonites and Firefly fans, but I'm not that excited, even though I really got into Dollhouse during the second half of the series. I don't hate Glau or anything, I just don't know what she'll bring to the show that wasn't there already. On the other hand, I am glad that Whedon managed to cast a skinny brunette, though, as Dollhouse was severely lacking in those. (Via Warming Glow)