>
>
20 Delightfully Offbeat Nerd Gifts for Under $20
20 Delightfully Offbeat Nerd Gifts for Under $20
---
?As you are painfully aware, we are knee-deep into yet another wallet-draining, soul-sucking holiday season. Despite what the irksome song declares, it is hardly the most wonderful time of the year. Shopping is always a hassle even if money isn't a concern. Then there's the issue of what the hell to get the friends, loved ones and hanger-ons in your life that you annually are roped into buying stuff for. The good news is that if these people are nerds, you're in luck. Topless Robot can put an end to your humbugging with this overview of geeky gift ideas. Because money is tight all around, this Daily List presents 20 amazingly nerdy products that all cost $20 or less (excluding shipping). With any luck it will help you finish up your shopping and free up time to focus on what the season is really about: family squabbling, binge drinking and crying your eyes out while watching Emmet Otter's Jug Band Christmas.

20) Automan: The Complete Series

With all things Tron-related getting another go around on the pop culture carousel, is a renewal in interest for this 1983 rip-off sci-fi series far off? Yes, yes it is.
Cost? $13.25 for the complete series.
Where you can get it: There's no official release available, so if you want it you will have to visit the dark corners of iOffer (think of this gift as the DVD equivalent of a post-coital cigarette for your Tron Legacy-obsessed loved one).

19) Lovecraft Playing Cards

?You cannot resist the Call of Cthulhu, even in the midst of a game of Texas Hold' Em. So just to be safe you should pick up these playing cards from the H.P. Lovecraft Historical Society. The deck features images of Lovecraft's best known monsters and the author himself (as the Joker, natch). Playing a quick game of cards with these as a chaser to some D&D is basically the most nerdy evening imaginable…and possibly the most awesome too.
Cost? You'll have to summon up $15 for this.
Where you can get it: Over at http://www.cthulhulives.org.

18) Great Muppet Caper Glasses

?As you'll probably remember from a few weeks back, novelty drinking glasses are the goblets of Satan. But do you really want to live in a world where you will never again sip an ice cold Coke from a glass emblazoned with an image of Mola Ram pulling someone's heart out? Me neither, which is why I'm advising you to ignore those doom-saying news reports and buy as many novelty glasses as possible before the hysteria over their alleged toxicity makes them hard to find. A good assortment to start with are these McDonald's glasses that were released in 1981 in conjunction with The Great Muppet Caper. Sure, they're probably laced with lead and cadmium, but look how cute Kermit and the gang are.
Cost? Full sets are easily found for around $10-$20.
Where you can get them: Just head to eBay and let the fun/poisoning commence!

17) Sulk, Issue 3

?Readers of Jeffrey Brown's Incredible Change Bots will be pleased to see that his satirical edge is sharper than ever in this third volume of the anthology series Sulk. This time around, he sets his sights on the most ridiculous aspects of the sci-fi and fantasy genre in tales that feature jealous robots and doomed elves. And just wait until the Time Babies show up…
Cost? $6
Where you can get it: Although this is available insanely cheap from online book merchants, I'd recommend heading over to Top Shelf's website and supporting the publisher and Brown directly.

16) Doctor Who Tees

?The aptly named Geek Boy Press presents these screen printed T-shirts celebrating the Doctor's adventures in time and space. First up is a tee featuring a silhouette of the Timelord's robotic canine in a color scheme that would make K-9 proud. If you'd prefer a Who shirt that's a bit more contemporary, the "Bowties are Cool" offering that will make you the envy of everyone at the next Gallifrey One con.
Cost? $10.
Where You Can Get Them: The Geek Boy Press store.

15) The Ultimate Guide to G.I. Joe

?Action figure expert Mark Bellomo presents everything you would ever want to know about 3 3/4-inch G.I. Joes in The Ultimate Guide to G.I. Joe: 1982-1994. The book is a goldmine of information about Cobra and Joe figures and vehicles from what is widely considered to be toyline's golden age. There's a certain nostalgic warmth that comes from looking at images of 1980s toys, something that this guide offers an abundance of. Clearly geared towards the Hiss Tank set, the trip down memory lane this release is equally captivating for readers who don't know the Baroness from Buzzard.
Cost? As low as $15.
Where You Can Get It: Amazon.

14) Hello Wars Stickers

?These stickers that infuse Star Wars characters with Hello Kitty whimsy are so goddamn twee that if you stare at them for long enough you can actually hear Belle and Sebastian. There are several sets of these stickers available, each more cute than the previous (copyright infringement has never been so adorable). Be warned though, there are a variety of Hello Wars products from pillows to vinyl decals available that will attempt to tug at your heartstrings and empty your wallet.
Cost? $2.75 per assortment.
Where You Can Get Them: Visit Hello Wars and Etsy for more info.

13) Robocop Diorama

?I had to kill Santa Claus because he made a mistake, and now it's time to erase that mistake. Er, sorry. You too can experience the lawless mayhem of Old Detroit in the comfort of your own home with this inexplicable Robocop diorama that recreates the film's gas station robbery scene with die-cast figures (explosions not included).
Cost? I'd buy that for $16.
Where You Can Get It: At Amazon. Just don't go looking for a reason why this exists, because that would be a hell of a lot trickier to track down.

12) Other Spidey Musicals

?The continuing debacle that is Turn off the Dark has made me long for a simpler era of Spider-Man musicals, namely the 1970s. The me decade gave us two Spidey rock operas: Rockcomic: From Beyond the Grave and Rock Reflections of a Superhero. These cheesy albums were never staged theatrically — which seems fortunate given the logistical nightmare that Taymor's opus seems to be — yet they include material that treat the webslinger with the respect he deserves through song. Don't get me wrong, the whole concept of a singing Spider-Man is insane. What separates these albums apart from the travesty currently infesting the Foxwood Theater is complete lack of pretension and some killer tunes that don't sound like How to Dismantle an Atomic Bomb leftovers. Better still, no Swiss Miss.
Cost? Rockomic is $4.98 (MP3 download only), Rock Reflections will set you back $5.95.
Where You Can Get It: The former is available at CD Baby and the latter at Amazon.

11) Music of DC Comics: 75th Anniversary Celebration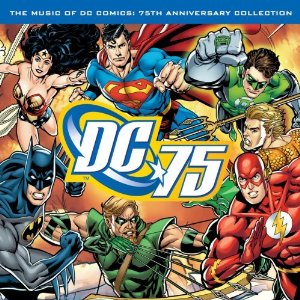 ?Marvel isn't the only major comics industry to participate in Broadway shenanigans. It's a Bird…It's a Plane…It's Superman brought the story of Krypton's last son to the Great White Way in 1966. It was hardly the train wreck that Spidey's show is turning out to be, earning some acclaim and even spawning a cheesy 1975 TV adaptation. Oddly enough, no songs from the Supes musical are included on the Music of DC Comics: 75th Anniversary Collection. Bummer. What the release does have is plenty of mainstream material (Neal Hefti's classic Batman TV theme, John Williams' "Theme from Superman," etc) as well as songs and obscurities from assorted DC cartoons and series that have graced their airwaves over the decades. I could criticize the material that this release ignores, although I'd rather just listen to the Batman: The Brave and the Bold theme repeatedly instead.
Cost? $14.99 for the CD, $9.49 for an MP3 download of the album.
Where You Can Get It: Amazon.
—-

10) E.T. The Extra-Terrorestrial

?Matt Busch's 19 x 13-inch poster of a knife-wielding zombie E.T. confirms every suspicion I have ever had about the so-called cute space visitor. Space botanist my ass, that fucker is here for just one reason: to scare the living shit out of every human he encounters.
Cost? $19.99
Where You Can Get It: At Hollywood Is Dead (be sure to check out Busch's other zombified goods on the site).

9) Stay Puft Caffeinated Marshmallows

?I'm not sure if caffeinated marshmallows are a brilliant invention or a conspiracy by the manufacturers of Nexium to give nerds everywhere acid reflux, but these Ghostbusters ones are such a wonderful idea that I hardly care.
Cost? $19.99
Where You Can Get It: ThinkGeek. If you're all alone, pick up the phone and call. 1-888-GEEKSTUFF.

8) Space Invaders Drink Accoutrements

?Inspired by Space Invaders, these two products (branded as "Ice Invaders" and "Space Intruders" in order to avoid lawsuits from Taito) allow anyone to make the arcade classic a part of their daily routine…as if it wasn't already. The Ice Invaders tray creates perfect ice replicas of the 8-bit villains that you can then destroy by plunking into your glasses of Coke or bourbon. As for the novelty mug, well it makes the Invaders appear when a hot beverage is added. Am I the only one who is still wowed by this primitive bit of drinkware technology?
Cost? $7.49 for the ice tray and $7.99 for the mug. Buy them both for the retro gamer in your life.
Where You Can Get Them: Available through Perpetual Kid and ThinkGeek.

7) Tiny Mego-Styled Marvel Figures

?You'll never be able to afford the old Mego figures based on Marvel Comics characters, so these 3.5-inch vinyl mini-figs from Japan will have to be the next best thing. Each character comes in a window box inspired by the great superhero toy packaging of the 1970s. They make perfect stocking stuffers to boot.
Cost? Between $6-$8 apiece, shop around for the best price.
Where You Can Get It: Through Amazon and any online toy retailer that believes in happiness.

6) Nerdy Christmas Cards

?A bit pricier than the usual Hallmark offerings, the above Christmas cards have an advantage by replacing holiday sentiment with sheer awesomeness. The Mr. T designs by Brandon Bird (the lovable maniac who also sells a Law & Order coloring book and a Colorforms-esque playset starring Nicolas Cage) pity the fools who don't receive them in the mail, while the Left 4 Dead ones remind us that zombies love the season of giving just as much as the rest of us.
Cost? The Mr. T cards will set you back $10-$12 per set of five; Left 4 Dead's undead holiday greetings are $15.99 for a set of 20 (includes 10 different designs).
Where You Can Get Them: Celebrate T-Mas at Brandon Bird's website and feast on the living over at ThinkGeek.

5) The Power of Grayskull Coffee Mug

?Be it coffee, hot chocolate or Four Loko, this Masters of the Universe-themed mug is the ideal container for your favorite morning pick-me-up. Because most workplaces frown on having employees strip down to short shorts and throwing swords about, it's also the most socially acceptable way to show your devotion to He-Man in an office environment (apparently, asking co-workers to ride your Battle Cat is also looked down upon).
Cost? $19
Where You Can Get It: Caf? Press.

4) Disaster Area Tour Shirt

?The Hitchhiker's Guide to the Galaxy's house band gets their own tour shirt, complete with a Cosmic Cutie giving devil's horns. As a sucker for anything even remotely Douglas Adams-related, this black t-shirt printed with a shiny silver foil etched design gave me butterflies. Anyone lucky enough to get this on Christmas would be a hoopy frood indeed.
Cost? $15.99-$17.99 depending on size.
Where You Can Get It: At ThinkGeek and any head shop on Kakrafoon.

3) Critical Hit LED d20 Die

?The joy of inflicting more damage while role-playing is always worth celebrating, and now you can be downright obnoxious about doing so with this special die that flashes red whenever you roll a 20 (known as a "critical hit" amongst the Dungeons & Dragons faithful for its destructive aftermath when rolled). Here's a look at the die in action:

Man, is there anything that Jemaine Clement can't do?
Cost? $9.99.
Where You Can Get It: ThinkGeek has your saving roll.

2) Megatron Men's Briefs

?If for no other reason, get these to make a joke to your significant other about how your junk is more than meets the eye.
Cost? $13.
Where You Can Get Them: Shop without shame for these at Web Undies.

1) Lando Calrissian Disguise Kit

?Fellas, you don't need mistletoe to score this holiday season. Just slap on one of these Lando mustaches, grab some Colt .45 and stop on by your lady's for an evening of orgasmic Cloud City lovemaking. Works every time indeed.
Cost? If you have to put a price on wonder such as this, that price would be a mere $6.
Where You Can Get It: The nostalgia peddlers of 80's Tees.
About The Author
---
Chris Cummins is a pop culture writer and Archie comics historian who has contributed to The Robot's Voice, Den of Geek US, Philebrity, Geekadelphia, Uproxx, and Unicorn Booty. He is the co-producer and co-host of Nerd Nite Philadelphia, and is regularly involved in producing and hosting New York Super Week events. In 2014, Chris began Sci-Fi Explosion, a mix of live performance, trivia and funny clips celebrating the weirdest in science fiction that regularly travels around the United States. He wrote the introductions to the compilations Archie's Favorite Comics From The Vault and (with Paul Castiglia) Archie's Favorite High School Stories. You can find Chris on Twitter at @bionicbigfoot and @scifiexplosion.