A Sex Scandal Hits Sesame Street
---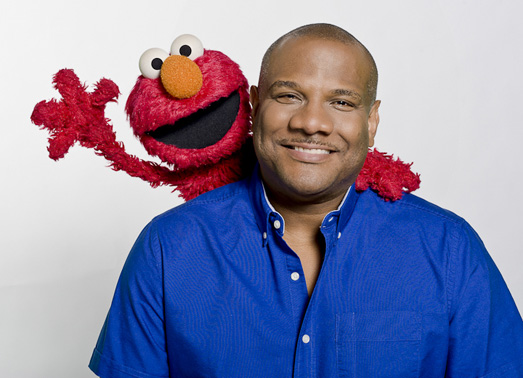 Ugh. From the
New York Daily News
:
It's not a sunny day on "Sesame Street," as the show revealed Monday
that the puppeteer behind Elmo has been accused of having a sexual
relationship with an underage boy.

"In June of this year, Sesame Workshop received a communication from a
then 23-year-old man who alleged that he had a relationship beginning
when he was 16 years old with Kevin Clash," reps for the show said in a statement.

Clash, 52, who has been Elmo's Muppeteer since 1984, adamantly maintains the accusation is false, but the show was forced to investigate.

Says Clash, according to TMZ,
"I had a relationship with [the accuser]. It was between two
consenting adults and I am deeply saddened that he is trying to make it
into something it was not."

"We took the allegation very seriously and took immediate action,"
Sesame Workshop said in the statement. "We met with the accuser twice
and had repeated communications with him. We met with Kevin, who denied
the accusation. We also conducted a thorough investigation and found the
allegation of underage conduct to be unsubstantiated."

While the show's probe was unable to find proof that Clash had engaged
in a relationship with the accuser while he was a minor, it did find
evidence that the man behind one of the most beloved children's
television characters had engaged in inappropriate behavior against
company standards.

"Although this was a personal relationship unrelated to the workplace,
our investigation did reveal that Kevin exercised poor judgment and
violated company policy regarding internet usage and he was
disciplined," Sesame Workshop said.

In light of the incident, Clash will be moving away from Sesame Street for the foreseeable future.

"Kevin insists that the allegation of underage conduct is false and
defamatory and he is taking actions to protect his reputation," the
Workshop noted. "We have granted him a leave of absence to do so."
As readers of Michael Davis' Street Gang will be quick to point out, there has been a fair amount of drama behind the scenes of Sesame Street during the show's 43-year run…but nothing even remotely comparable to an alleged sex scandal. As the man responsible for bringing the most popular (and most divisive) Muppet to life, Kevin Clash was the focus of the documentary Being Elmo — a film that managed to even warm the hearts of the character's most vocal critics. Even though he denies the allegations against him, Clash could be tried in the court of public opinion regardless. Although Sesame Workshop has already announced that the Elmo character will continue to be featured on Sesame Street during Clash's absence, it's hard to imagine that the show won't receive some serious blowback from this as well. Let's not forget the accuser here either. This is just a horrible story for everyone involved right now, and it bums me out to have to bring it to you guys. I'm sure you all will have a lot to say about this in the comments, but as the substitute teacher here today I'll ask you all to keep things classy as we don't know all the details about what happened here as of yet.
UPDATE: Clash's accuser recants his allegations. Hopefully Kevin Clash can return to Sesame Street and get back to entertaining ASAP.