The 10 Best Moments in "The 24 Hours of Gallifrey One"
---
It's bigger on the inside. That's the thing everyone says about the TARDIS, the blue British police-box-shaped time machine that's the center of the venerable TV show Doctor Who. But it's also true of Gallifrey One — "the world's largest and longest-running annual Doctor Who convention," held this past weekend (February 15-17) at the Marriott Los Angeles Airport Hotel.
The BBC sci-fi show will celebrate its 50th anniversary this November, and "The 24 Hours of Gallifrey One" was appropriately stuffed with guests spanning all eras of the program, from what's become known as the "classic series" (1963-1996) to the "new series," which was revived by the BBC in 2005 and has continued since, becoming more popular than ever — especially on this side of the Pond. This is the con's 24th year (hence the title), and its popularity has grown exponentially even since I began attending a mere five years ago. No one could possibly take in all that "Gally," as it's affectionately known, has to offer, so at this point it's like the proverbial blind men and the elephant. But whatever you grab onto will add up to something you'll never forget.
1. The Membership Cap
I started attending Gally in 2009, on its 20th anniversary. That year, the convention attracted around 1,000 people — a record for this fan-run function that was started by members of the Time Meddlers of Los Angeles in 1990, when Doctor Who wasn't even on the air. This year, they sold out in advance for the first time ever, bringing in 3,200 attendees and forcing organizers to cap membership — also for the first time ever. That caused a fair amount of grumbling among veterans, as did the fact that the first hotel block offered sold out in less than an hour.
This turn of events led to much speculation that Gally would have no choice but to move to a larger hotel and eventually get so big that no one would ever have any fun. But during Opening Ceremonies on Friday, Vice Chair and Program Director Shaun Lyon genially came out swinging. Pointing to the standing-room-only crowd, he asked if anyone thought the cap was a bad idea now. (Noooooo!) Lyon acknowledged the frustrations and missteps made, but pointed out that Gally is still a fan-run, volunteer-fueled con. He insisted that "our hearts are in the right place" (appropriate for a convention that revolves around a hero who has two hearts), and declared that organizers aren't interested in moving to another venue. A word to the wise: Registration for next year opens online on March 8. Keep an eye on the official site for updates.
2. Freema Agyeman for President?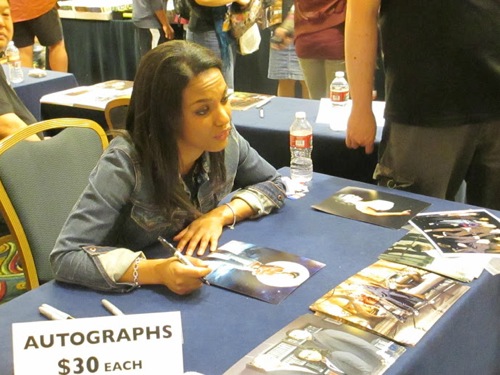 Peter Lee
She's the first new-series companion to appear at Gally — and the only one who will ever be thanked for being black Doctor Who fans' Barack Obama, as one did during her interview session on Sunday morning. Freema Agyeman played Martha Jones, companion to 10th Doctor David Tennant in Series 3 of NuWho, who returned for several episodes of Series 4 and also guest-starred on spin-off series Torchwood. Both of her interview panel sessions were standing room only, and she was almost alarmingly sparkling and gracious through each one, as well as during lengthy autograph sessions.
3. Goodbye, Sarah Jane Smith
Kid-oriented spin-off series The Sarah Jane Adventures ended in 2011, with the death from cancer of lead actress Elisabeth Sladen. As we learned during Friday's SJA panel featuring co-star Anjli Mohindra (who played Rani Chandra), Sladen kept her condition so private that not even her fellow actors knew until she was gone. "I'm still trying to wrap my head around it two years later," Mohindra confessed.
She's not the only one. The sudden loss of Sladen, arguably the most beloved companion in all of Who-dom, compelled some fans to unveil a better ending for Sarah Jane. In recent years, the Saturday-night costume showcase "The Masque of Mandragora" has closed with a silly skit full of fannish in-jokes and goofy antics. But this year, the last bit was a heartfelt tribute, in which the Fourth Doctor returned to Sarah Jane and asked her to travel with him forever. Though somewhat awkwardly executed and perhaps hokey, it was still a moment of painfully sweet wish fulfillment. This was one time when ending with a whimper wasn't such a bad thing.
4. Sylvester McCoy: The Oncoming Storm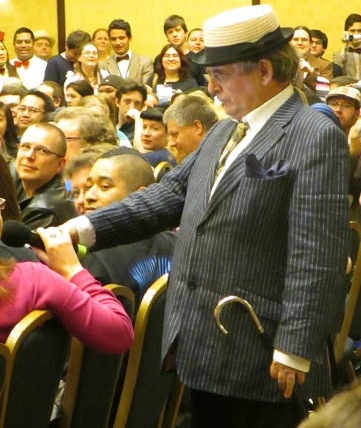 Peter Lee
Since 2009, Gally has managed to snag one actor who played the Doctor every year but one (2010, when Fifth Doctor Peter Davison had to cancel due to a work commitment). But I've never seen a Doctor take a room by storm like Sylvester McCoy, the Seventh Doctor, did on Saturday evening. Eschewing the standard scenario of sitting on stage for a short interview before taking questions from the audience, the Scottish actor, who also appears as Radagast the Brown in The Hobbit, plunged into the crowd with microphone in hand, dashing about the huge room with a goofy verve that recalled his character, delighting all with everything from zingy one-liners to corny shtick to thoughtful insights. All I can say is: Colin Baker (next year's featured Doctor), the bar has been raised.
5. TARDIS Ladies
Cosplay is a huge deal at Gally, and every year one certain character seems to enjoy their moment in the spotlight. This year it was … the TARDIS? Not sure if we can blame it on Neil Gaiman, who penned the widely adored new Series 6 episode "The Doctor's Wife" (in which the TARDIS briefly becomes human), because TARDIS dresses started popping up a year or so ago. But this time it seemed like hundreds of women were dressed like everyone's favorite blue box. Considerably fewer, though still a fair number, donned the costume of Idris, the TARDIS's human form. Are they bigger on the inside? Only their most intimate acquaintances know for sure.

6. Clocking Cosplay
JD Griffin
Does it count as cosplay if you wear a flat foam cutout of a Dalek on your head all weekend? I dunno, but when legendary Doctor Who and Blake's 7 costume designer and Gally guest June Hudson marvels at the amazing variety of costumes and the amount of work the con's cosplay army put in, they must be doing something right. From scores of Doctors and companions of all eras, to functioning Daleks, to the occasional out-of-place Starfleet and Once Upon a Time character, it's hard to pick a No. 1 star. But I'll give my vote to whoever constructed this simultaneously amazing and frightening Clockwork Woman, from the 10th Doctor episode "The Girl in the Fireplace."
7. Put a Ribbon on It
Badge ribbons reached critical mass this year. It is fun to collect these little strips of cloth that attach to your con badge, emblazoned with snappy bits of dialogue, promotions for various fan podcasts and other endeavors, or silly Who-related sayings. During "Lobbycon" — the never-ending lobby party that kicks off on Thursday night before the con officially starts — folks swarmed around each other to trade and collect the things. It's easy to accumulate a long, long strand — or 10. But once you start making clothing out of them, it might be time to think about starting a new trend. Stickers, anyone?
8. And Now … the News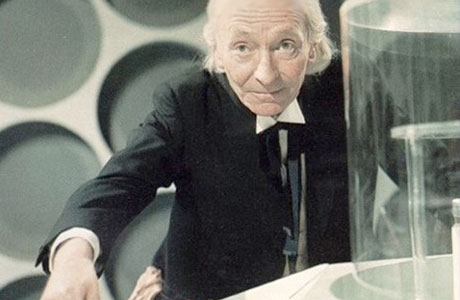 Gally's not the place for huge amounts of official news, but there are always a few fresh tidbits relevant to some niche's interests. After Opening Ceremonies this year, completists were treated to the North American premiere of the restored "Air Lock," part three of the 1965 serial Galaxy 4, starring William Hartnell as the First Doctor (pictured). During Sylvester McCoy's turbo-charged interview, Big Finish Productions premiered a trailer for The Light at the End, an audio adventure due in November that features all the living classic Doctors (Tom Baker, Peter Davison, Colin Baker, Sylvester McCoy, and Paul McGann) and works in snippets from three dead ones too (Hartnell, Patrick Troughton, and Jon Pertwee). And Closing Ceremonies featured a short video interview with current showrunner Steven Moffat, which didn't reveal much but did tease us a bit, ramping up expectations for the 50th anniversary season by promising that what's been announced so far is not anywhere near all we're getting.
9. Never Mind the Daleks, Here's the Ogri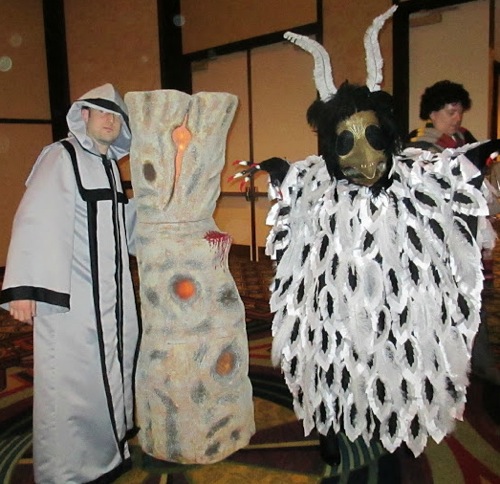 Peter Lee
It's easy to get jaded about Lobbycon, a place where all manner of wild behavior takes place, giving pause to even such reliably blue-working guests as Ian McNeice (who's played Winston Churchill in several recent episodes). But this year, Lobbycon witnessed something that even veteran con-goers said they'd never seen before: an Ogri, the blood-drinking alien being from the Fourth Doctor serial The Stones of Blood, complete with a robed Druid priest sidekick and the masked Cailleach, the goddess of war and magic. Rock on!
10. I, Robot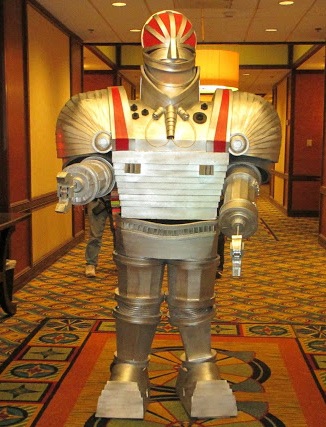 Peter Lee
Among the head-turners in the monster category this year were the usual array of impressively authentic Daleks, a fluffy Snowman from last year's Christmas special, and this stellar replica of the robot from the Fourth Doctor's debut episode (surprisingly titled Robot). Built from scratch, it stood taller than the doorways and was among the winners at the Masque. Talk about heavy lifting!