10 Surprising Facts About Titmouse Animation Studios
---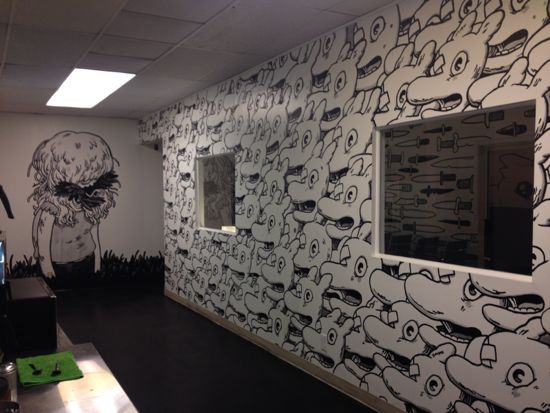 Liz Ohanesian
Inside Titmouse studio. Mural by Travis Miller.
If you watch late night cartoons, then you're probably familiar with Titmouse. The animation studio with headquarters in Los Angeles got into the grown-up TV game with Metalocalypse. Soon, they expanded from high-maintenance metal stars to include adventurers and villains (The Venture Bros.), a bizarre prison (Superjail!), a really terrible university (China, IL) and much more. But, as supervising producer Ben Kalina notes, they don't do every show on Adult Swim. Contrary to the comments that Titmouse co-owner Chris Prynoski (aka Chris P.) hears, they don't do Archer either. They also don't just make cartoons for adults. Prynoski created the series Motorcity, which is no longer on the air, but still brings a ton of fans to their convention panels. They're also the home for Randy Cunningham: 9th Grade Ninja.
Titmouse has had its hand in some big projects, but there's a lot about the animation studio that even die-hard fans might not know. That's why I headed down to the L.A. offices recently to tour the large facilities.
10. Titmouse Was Supposed to Be a T-Shirt Company.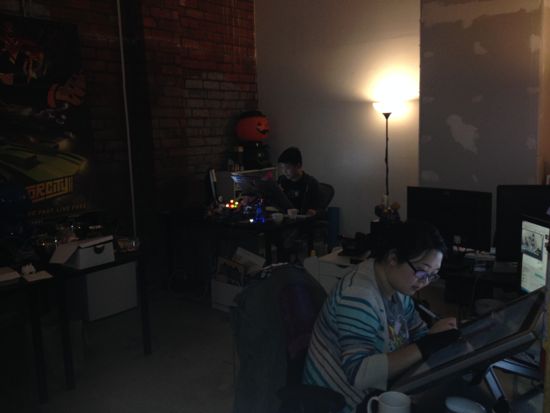 Liz Ohanesian
Titmouse was supposed to be a t-shirt shop. It became an animation studio.
"We had no plan to make an animation studio," says Prynoski of the company. Titmouse was supposed to be an online shop for T-shirts.
If you read the About section of Titmouse's website, you probably know this. I can't assume, though, that people spend all day combing through animation studio sites for random bits of trivia. Anyhow, here's how Titmouse went from T-shirt company to animation studio.
Prynoski had spent years working in animation in New York, mostly on MTV fair like Beavis and Butt-head, Daria and Downtown. During the infancy of Titmouse, he was still working freelance in the industry and had a lot of gigs. "You end up hiring friends and then hiring more friends and then more people and then before you know it, it's a studio," he explains. "Now, it's a real business, more or less, but it didn't start out that way."
9. They Make Comics too. Sometimes.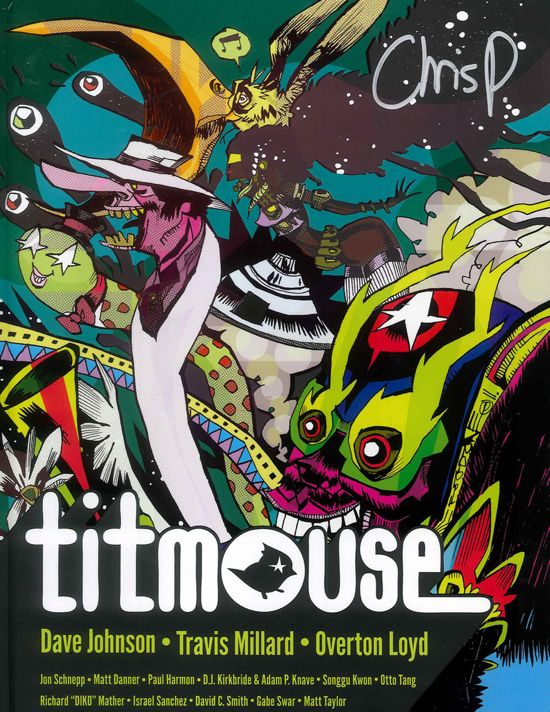 Titmouse
Titmouse Mook is a book/magazine hybrid that features comics from Titmouse artists and friends of the studio. Prynoski describes it as being like a "cool French art book." So far, two volumes have been released. They have the material for a third installment, but haven't built the mook yet. It's a project that they do simply for fun. "We actually lose money on them because we don't have a business model," says Prynoski. "We do hardcover against the advice of people who know how to make money on comics."
And then there's the matter of free time. "There's no one whose job it is to do it, so we just chip away at it," says Prynoski.
Kalina adds, "Making TV shows takes a lot of time."
8. Titmouse Has Studios in Three Cities: Two in the U.S., One in Canada.
Titmouse
This is the Vancouver office.
Titmouse HQ is in the middle of Hollywood. It's a fairly large facility. In fact, they have a small dune buggy to get back and forth between the building. They also have offices in New York and Vancouver.
The New York office launched in 2010. "Two of my friends were both creators of Adult Swim shows and they needed places to do their shows," says Prynoski. Titmouse New York basically started for Superjail! and The Venture Brothers.
The Vancouver office opened last June because they were working with a lot of freelancers in Canada. "If we put them all in the building, we would have a studio," says Prynoski. Also, there are tax incentives involved with setting up the shop that helps them keep costs low for some work. "If a network needs to do a show on a budget, it makes it easier to do it in Canada," he adds.
The studios often share the workload on projects. Right now, they have two projects benefitting from teams at all three studios. Employees go back and forth between L.A. and New York as well.
7. Chris P. Is a Get a Life fan. That's How the Company Got its Name.
Liz Ohanesian
Chris P., Titmouse president/Get a Life fan.
The most frequently asked question Chris P. gets at conventions is "How did you get the name Titmouse?"
It's from Get a Life, the 1990s TV show that starred Chris Elliott as a grown-up paperboy. Specifically, it's from an episode called "Chris' Brain Starts Working," where an incident with toxic waste turns our hero into a temporary spelling bee phenomenon. "When it starts to wear off, he gets asked how to spell the word Titmouse and he just starts giggling," says Prynoski. "He can't answer it because it's such a silly, stupid word. That's why I named it Titmouse."
Two nights before our interview, Prynoski actually met Chris Elliott at an L.A. screening of the Adult Swim television series Eagleheart. Of course, Prynoski told that story to the former Get a Life star. "He said that was very sweet and patted me on the shoulder," says Prynoski. "It was half sincere and half sarcastic, I think."
6. They Started an Opening Sequence Trend.
Titmouse has done a lot of opening sequences, including one for the first season of Avatar: The Last Airbender. It's the intro they did for a reality TV show, though, that made a major, lasting impression.
One of Titmouse's earliest projects was the opening title sequence for MTV's show The Osbournes. Originally, the idea was to animate Ozzy Osbourne in the style of the opening credits for I Dream of Jeanie or Bewitched. "We kept running on the clock on it until there were only a couple weeks left to do the open," says Prynoski. "I had to think of something that could be done."
They decided to take freeze-frame images and put them against retro looking animated backgrounds that slid on and off the screen. It was a means to an end that worked. "Freezing the frame, cutting someone out and sliding shit was done out of necessity, not creativity," he says. Later on, other shows made use of the style. "They still do it," he says. "That's never going out of style."
"That's one thing I feel I can say I contributed to: weird, shitty motion graphics openings," says Prynoski.

5. They Made a Video That Was Nominated for a Country Music Award.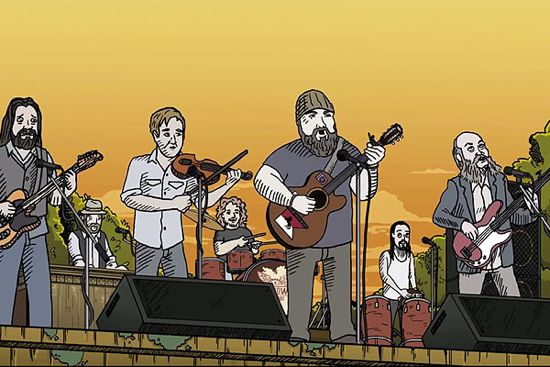 Titmouse
One Friday, Prynoski got a phone call from Mike Judge. The King of the Hill creator asked Prynoski if he wanted to go with him to meet country artist Zac Brown on Monday. He said yes and that Monday, they headed out to Fayetteville, Georgia. "We got drunk and threw throwing axes and went 4 wheeling in waist-deep mud and flipped over the 4 Wheeler and made a big bonfire and flew back to L.A.," says Prynoski. After a trip that lasted less than 24 hours, they went to work on a music video for Zac Brown Band's tune "The Wind." Judge directed it. Titmouse produced it. The clip went on to receive a nomination at the 2012 Country Music Awards for Video of the Year, but didn't win.
4. Once a Year, They Smash Things.
Liz Ohanesian
Toilets waiting to be smashed.
Every year, the Titmouse team gets together to break stuff. It's called a Smashing Party and it's a big deal. They set up a cage in the Hollywood studio's parking lot and bring in sledgehammers, bats, axes and, of course, safety equipment. There are medics and referees on hand. The guests, who have to sign a release to get inside the party, bring their own stuff to smash.
"I think there's a caveman part of everybody that they don't get to exercise in society," says Prynoski. "You feel really good afterwards for destroying something for no reason."
Titmouse just had its eighth annual Smashing Party. When they started doing this, old TVs were a popular item. Now, they're breaking lots of stuff. "People get really creative," says Kalina. He mentions items like small lightbulbs and large glass containers filled with Christmas ornaments.
"The best thing to smash, hands down, is an old CRT monitor," says Prynoski. "Hands down, it has a real satisfying pop sound." Toilets are really popular too. In fact, when I stopped by the studio, the day before the party, there was a cluster of toilets in the parking lot, each one labeled with the name of the soon-to-be smasher.
3. They Make Extremely Short Shorts.
Titmouse makes short animated flicks too. Maybe you've seen "Pinched." If not, you can catch that on iTunes. They're about to start work with Jhonen Vasquez on a short based on his comic book Squee. They do shorts when there is time, usually when the TV shows are in between seasons. There's one day a year, though, where the animation team can work on their own shorts. It's called 5 Second Day and it usually falls on a holiday like Valentine's Day or Saint Patrick's Day, where offices don't shut down. "You don't have to do your jobby job," says Prynoski, "but you still have to come to work so do this."
It's called 5 Second Day, says Prynoski, because "five seconds sounds like about what somebody can do in a day." Most of the shorts, though, are quite a bit longer. Typically, he says, you'll see things that are 30 seconds to a minute in length. Animators at Titmouse spend time planning for the event and the work they do is really cool. Previously, they screened 5 Second Day projects at the Egyptian Theater in Los Angeles. A few of the films are available to view through Rug Burn, which is a YouTube channel run by Titmouse and fellow L.A. animation studio 6 Point Harness.
2. Motorcity Almost Didn't Happen.
Prynoski created the animated series Motorcity, which ran on Disney XD for one season. The car racing adventure didn't last long, but it made a pretty big impact. The show opened up Titmouse to get more work in the kids' TV world, like Randy Cunningham: Ninth Grade Ninja and a few in-the-works projects that they can't discuss at this time. Motorcity also racked up a lot of fans, who often turn up at Titmouse's convention panels.
The funny thing is that Motorcity almost didn't happen. Prynoski had put together a pitch and trailer for the show almost a decade before Motorcity turned up on television screens. Initially, he was pitching it as an adult series. Later, he brought in a friend to help him retool it for a younger audience. "I kind of almost permanently shelved it," he says. However, a contact at Nickelodeon had moved over to Disney and expressed an interest in the series.
Ultimately, Motorcity fell to powers beyond their control. After Disney acquired Lucasfilm, the show was canceled. Prynoski is proud of the work they got to do. "I'm happy that we got to make 20 episodes," he says. "It was awesome." Meanwhile, fans were clamoring for more. There was an online petition to save the show, but the petitions couldn't help when they were contractual issues at play. Still, Prynoski frequently hears from fans who ask if Motorcity will ever get a second run. "I don't see it happening anytime soon, or ever, unless another network wanted to option it or something," he says. That's okay. He adds, "I prefer to look to the future."
1. Titmouse's Most High Profile Project Isn't What You Think It Is.

Titmouse has worked on a lot of popular cartoons, but that's not necessarily the work that has reached the most amount of eyeballs.
Prynoski takes his time when asked what Titmouse's highest profile project has been. "I'd like to say it's Venture Bros.," he says. "That's the highest profile amongst weirdo nerd people that I like."
But, Titmouse also has a lot of commercial work to its credit and it's those spots that have likely hit the biggest audience. "It was probably a Budweiser commercial or a Honda commercial or something like that," he says.
Or, it could have been Guitar Hero. Titmouse worked on several iterations of the hit video game, doing intro segments and cut scenes.
Then again, they also worked on Community. Remember the episode "Digital Estate Planning"? It's the 8-bit animation episode. There was also the recent clip they did for Metallica with the band's bassist, Robert Trujillo.
Still, it's probably the commercials.