Fanboy Flick Pick: Muppets Most Wanted Is Good, but Not Great
---
Muppets Most Wanted was, at one time, entitled Muppets…Again, which would have been both entirely appropriate and a bad marketing hook. It suggests – accurately – that all you have do at this point is give people the Muppets again, and they will come. Of course I will, and of course I was entertained…mostly (hell, I'd even go see Tyler Perry's Madea Meets the Muppets, if only to keep myself guessing which of the gang ends up coming to Jesus – Beaker, obviously). But when I think back to those first three Muppet movies, I find myself asking: didn't they have coherent plots and such? Weren't they more than just a bunch of funny bits thrown together?
This is a rhetorical question, because I rewatched the first Muppet Movie again recently, and it holds up better than I suspect Muppets Most Wanted will in years to come. This is not to say the new movie is bad – no movie involving the genuine Muppets has ever flat-out sucked. But it is to say that when you have some of the funniest people in entertainment in the cast, and a roster of cameos that probably beats even It's a Mad, Mad, Mad, Mad World, the fact that your final product is just pretty good feels like a bit of a bummer.
There are enough funny bits, clever payoffs, aforementioned cameos and moments for most of your favorite classic characters that you won't likely have a bad time at Muppets Most Wanted (an Ingmar Bergman/Swedish Chef bit and a fairly blatant reference to Gonzo fucking chickens are highlights) – but you may wish that they'll come up with a better story next time. The premise – Muppets go to Europe and one of them is framed for a crime – is lifted almost wholesale from The Great Muppet Caper, while one of the major human characters, a bumbling French detective played by Ty Burrell, is pretty much a direct copy of Peter Sellers' Inspector Clouseau. Albeit a better one than the official copy played by Steve Martin in that particular franchise's reboot.
Things kick off with a musical number you've probably seen bits of online, in which Kermit and company flat-out admit sequels aren't usually as good, and Dr. Bunsen Honeydew nerdily points out that this is actually their seventh sequel (if you ignore the fact that there's little continuity after the first three). But here's a question – if this is a direct sequel to The Muppets, how do you just ignore Jason Segel's character from the first film? He and Walter were brothers and best friends – now that Walter is with the Muppets, you'd expect some acknowledgement that he misses his bro. The script never addresses this, except to imply that the first movie was in fact just a movie put on by the real Muppets. But in that case, where did Walter come from?
That may seem like a really stupid nitpick, but it's just one example of how this movie flagrantly does not care about story logic (another major one involves an impenetrable, inescapable Siberian gulag that is easily penetrated and escaped from as soon as it become convenient). And it's a problem that could be so easily resolved. How hard would it be to have one character point out a script hole, then have another make a joke about the screenwriter, then cut to a monkey Muppet typing out the script while flinging bananas at the screen? The problem would be completely solved within the movie's logic. That writer-director James Bobin and collaborator Nicholas Stoller can't be bothered to even offer that level of explanation is symptomatic of either a lack of oversight or simple laziness; I doubt the latter, but I'd love to see the next Muppets script get run past the gang at Pixar for a few suggestions.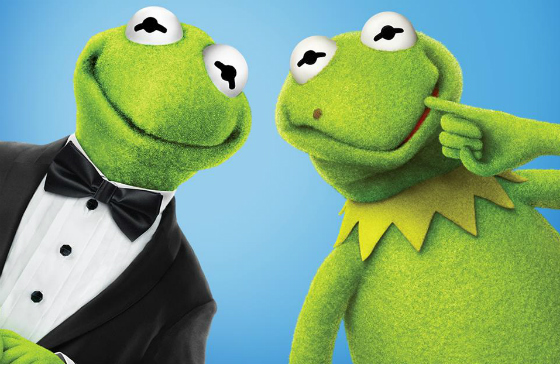 Utilizing a classic trope that was, believe it or not, done better in Ernest Goes to Jail (which is only an insult if you choose to make it one), Muppets Most Wanted introduces Constantine, an evil Kermit doppelganger from Russia, identifiable primarily by a mole on his upper lip. In league with dodgy business manager Dominic Badguy (Ricky Gervais), he enacts a scheme to trade places with Kermit, sending our favorite frog to the gulag while using a Muppet Show tour of Europe as a pretext to rob museums. In the meantime, he lets every Muppet do exactly what they want, which initially makes them all think the boss suddenly got really cool…and Russian-sounding. Eventually, of course, the inevitable message that the rowdy kids need a disciplining parent figure must out, and Miss Piggy must decide whether a frog who actually will marry her without hesitation is preferable to the ever-evasive one she truly adores.


The cameos are insane – this probably sets a record not just for a Muppet movie, but for anything, from Danny Trejo to Frank Langella, Celine Dion, Tom Hiddleston, Lady Gaga and WWE's Hornswoggle, to name but a few. Better than any of them, though, are the cameos by various lesser-known Muppets, from Pops to Uncle Deadly, most of whom get at least one good moment – boomerang fishie thrower Lew Zealand even gets one of the film's best lines.
While it's good that the focus of the movie is back on the Muppets, as opposed to making a human the protagonist, it does lose sight of having Kermit be the main, active hero – for most of the movie, he's in a prison cell, and only develops any kind of substantive plan of action in time for the climax; the rest of the time, he has no concrete goals (to tour? To scold? To make money? He's purely reactive, never proactive). There are enough gags that you may not notice, but the plot really makes no sense at all, even under Muppet logic.
And maybe that doesn't matter, because it's still all in good fun. I laughed at the jokes, but I shrugged when it was over.
Preceding Muppets Most Wanted is a Monsters University short, "Party Central," that's better than the entirety of the movie that spawned it.