7 Ways Blizzcon 2014 Rocked
---
Blizzcon has been the (mostly) annual videogame convention for all things created by Blizzard Entertainment since 2005. (They skipped putting on a show in 2006 and 2012.) Fans of Warcraft, Diablo and more converge at the Anaheim Convention Center for two cosplay-dressed days. Like a younger, just-as-caffeinated kid brother to LA's Electronic Entertainment Expo, Blizzcon delivers more hang time with game developers, competitive gaming tournaments, and, obviously, more orcs. Here are the seven things that rocked along with a few that felt a bit out of tune…
PROS
7. The StarCraft II World Tournament Proves Gamers Are Just as Crazy as Regular Sports Fans.
There were several ongoing matches at this year's BC. Warcraft and Hearthstone: Heroes of Warcraft were pretty packed, but none got the star treatment like StarCraft II which was housed in a stadium-sized venue.
Who were you rooting for? MMA? Life? Traeja? I have no idea, and I had no real sense of what the two North Korean super players were ever doing, but that same logic never stopped me from enjoying NBA games.
And the announcers! Their knowledge and crazy play-by-play did Bob Costas proud. "He's unpredictable… and he knows when to use his [super]sprint" was a comment that really stuck with me. Did I LOL inside? You betcha, and I found myself coming back both days to see how the bracket got smaller and smaller. March Madness is starting to make sense to me now.
If you're a fan of the StarCraft II series, but not necessarily one who watches matches on Twitch, Blizzard also announced that the next expansion Legacy of the Void is coming soon.
6. Toys!
By far the longest line at Blizzcon was not to play any games. A seemingly endless amount of fans whether costumed or plain-clothed all wanted to buy well, everything at the official Blizzard Store. Action figures, clothes, pins, a weird vending machine for old school bouncy balls with Blizzard characters, and more were in high demand. I made the mistake of not checking the pop-up store out until day two, so all the Horde towels were already sold out.
If I could have one item it would be this dope Tracer figure. She's one of the characters from Blizzard's latest game, Overwatch. Her catch phrase is "Here comes the cavalry!" I want!
5. Chris Metzen: Writer, Designer, Voice Actor and SVP of the Warcraft Franchise.

THIS.IS.WARCRAFT! (In best King Leonidas voice)
Somehow, a hairier, more alpha male version of the late Steve Jobs makes perfect sense for the figurehead of Warcraft, right? Metzen was front and center for the convention's opening and closing ceremonies. His enthusiasm for the universe of Azeroth is only matched by his need to "keep it real" with gamers. Okay, I'm taking easy pot shots at the Warcraft guru's persona, but he's pretty much catnip to the fans. And for good reason: he's the gatekeeper for what happens next in Warcraft, and thus, he makes being a fan so darn easy – even for someone like me who never leveled up my priest higher than 15. Free advice to Hollywood: Gerard Butler needs to play him a movie about the making of Warcraft.
Speaking of movies…
4. Warcraft Movie Doesn't Suck (so far)
Set to release March 2016, the filmed version of the hugely successful series will be directed by Duncan Jones. Jones, along with cast member Robert Kazinsky and Metzen, was on the panel to talk about how the film is coming along. A rough cut has been made – one that Metzen watched twice in the same day – so post-production is underway. A longer teaser than the one that debuted at last summer's SDCC was shown on a loop at the convention. The coolest part was seeing Kazinky's mocap performance of Orgrim Doomhamer, the leader of the Orcs. Kazinky channels the spirit of the game's beloved character like a battle-worn WWE wrestler. Oh, and his skin, while not exactly human-looking, is not the traditional Shrek green. It works, though, so I'm cool with it.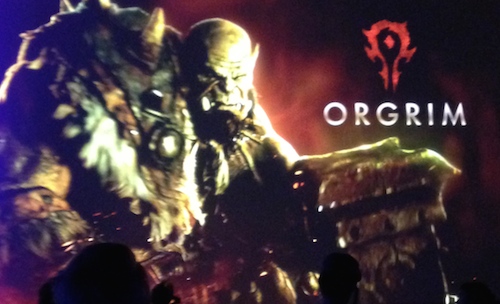 Can Jones, a director whose two previous films explored the inner life of a single character (Sam Rockwell in Moon and Jake Gyllenhaal in Source Code) be a good fit for a massively, multilayered epic about the war between the Horde and the Alliance? Honestly, there was too little revealed to know for sure, but Jones' enthusiasm felt genuine. His big idea, the one the Metzen said pretty much got him the gig, was that the two warring groups needed to be balanced in the script. (Reportedly, an earlier idea by Sam Rami was more human-centric.) Jones wants the orcs to get their due. Fans couldn't be happier as they cheered "For the Horde!" while Kazinky rallied them on.
Later, when I was in line to check out that teaser trailer, a couple of WoW fans told me not to get too attached to that March 2016 release date. Blizzard is known for pushing back their releases, or as Metzen says "it's ready when it's ready". It shows faith that the fans are fine with that. Or maybe they are just happy that World of Warcraft's latest expansion, Warlords of Draenor, is finally coming November 13.
The film will also star Ben Foster, Paula Patton, Charles Dance, and Dominic Cooper.
3. Diablo 3: When a Company Can Admit They've Made Mistakes.
I got into Diablo 3: Reaper of Souls Ultimate Evil Edition when it was released earlier this year on the PS4. I loved it even though I never cared for dungeon crawlers. The art style is wonderfully detailed at times, feeling like a storyboard come to life. The plot is woven over five acts focusing on a band of misfits that band together to overcome a demon named Diablo. I loved that the big battle against the horned one was only act four. Act five had more surprises. For me, it stands as an excellent well-balanced adventure that urges replays by trying out the several different character classes, and collecting all that crazy loot.
The thing, is Diablo 3 wasn't released like that. The game was far from perfect. There was no act five, the classes weren't balanced, and there was a misguided feature called "The Auction House" that allowed players to get legendary items (super rare stuff) through online bidding. The Reaper of Souls moniker was also not there yet. It certainly was not an Ultimate Evil Edition either.
On day two of Blizzcon, Diablo developers spent an hour discussing what went wrong, and how fan feedback helped them immensely to make D3 a much better experience. A slide was shown with the image of a very pensive Leah with the words "where did we go wrong?" above. Leah from the game has is a well-meaning demon mother. So yeah, she understands.
They fielded numerous of questions regarding issues players have had with the recent 2.1.0 update. One question regarding the parity of a dude's blue what's-it-called-enchanted-belt went way over my head. The answer he got did seem to console him, though.
2. Cosplay Never Gets Old.
At first, I was kind of skeptical about a convention that was centered around one brand. Well, I'm still skeptical about that, but I can't deny that unlike the mishmash of SDCC or the corporatism of E3, Blizzcon's smaller scale is more intimate. You feel like everyone you come into contact with is a huge fan of Warcraft, StarCraft, or Diablo. In terms of cosplay, it's akin to seeing only Marvel Universe characters and not a Superman in sight. It's cool.
Here are some of my favorites:
Soma from StarCraft II
Battle Bird, amirite?
well, this feels Hamlety.
1. Overwatch Looks Great… and Needs to Be on a Console.
Set in a near future that feels a lot like Pixar's The Incredibles, Blizzard announced its first new franchise in 17 years, Overwatch: a team-based, 6v6 multiplayer shooter with a focus on "fun, over-the-top" characters. Players join the elite international task force codenamed Overwatch charged with ending the war and restoring liberty to all nations. The classes are vaguely described in the trailer as "mercenaries, scientists, and adventurers". The playable demo (with the longest lines) sported battle arenas that felt like Valve's Team Fortress. Locations include London and the pyramids of Egypt. Gameplay wise, the set-up has one team preparing defenses while the opposing team uses a variety of powers and skills to accomplish objectives. Some characters are equipped with healing streams, others carry around massive energy shields, and still others can toss down turrets.
The writing in OW, while not as potty-mouthed as Sunset Overdrive, is just as witty. The game marks a turning point for Blizzard, a moment when the company is casting a much wider net than their previous "semi-new" games like Hearthstone, which depends on players being aware of their previous franchises (Hearth is a card game spin-off of Warcraft). Overwatch tosses that out the window. So as long as you're familiar with a shooter like Call of Duty and you like to laugh, OW is a no brainer. The open alpha is set for early 2015. Which is all good (great even) except for one nagging issue..
CONS
2. Consoles Got No Love.
Blizzard's decade long best-selling World of Warcraft is a big factor in why PC gaming still thrives today. (Nowadays, PC gamers are more about Riot Games League of Legends though.) So I understand that PC is where Blizzard lives and breathes. Still, Overwatch, Blizzcon's newest IP, is a shooter. The Halos and CODs of today's frag fests are mostly played on PS3s and Xbox 360s. Now I'm pretty sure Overwatch IS coming to PS4 and Xbox One, eventually, but when a fellow console guy asked for an official confirmation, the developers were mum. That blows.
Lately, Blizzard has had enormous success on consoles: Diablo 3 moved millions since coming out on PS3 and 360 in 2013. We console folks also love the worlds Blizzard creates, but we all can't spend thousands of dollars making sure our PCs are up to specs so that their latest games can be played smoothly on them. It's not like I'm asking for WoW to ever grace my PS4 (that would be pretty much unplayable with a DualShock 4), but a shooter?! Are you kidding me? I'm a sad Pandarian.
And you don't wanna mess with one of those…
1. OMG the "Music" Was Awful.
Day One ended with an assortment of contests inspired by Blizzard's many franchises. As stated above, there's nothing like seeing hordy Orgrim Doomhammer outgunned by demoness Kerrigan. Before that fun-filled, eye-catching cosplay section, however, were numerous bands vying for the attention of audiences and judges to win best musical act. While the winners where a fun, all-instrumental band headlined by a kick-ass violinist, the rest were pretty much the definition of how we nerds have awful taste in music. The headliner fancied themselves a return to the rock-rap roots of Linkin Park – as if anyone would ever want that. Next up, a three lazy MCs minus a DJ trio that couldn't bother to come up with one memorable thing to say in rhyme.
Personally, I was hoping Crucifixtorious.
Let's all remember that a lot of the outfits on display are homemade, tailored by fans that couldn't use a sewing machine until they were inspired to craft their own Alliance robes. Shouldn't we expect some level of craft when the more musically inclined ones take to the stage? I think so.
On the plus side, the closing night of Blizzcon has traditionally had performances by the likes of The Offspring, Tenacious D, Foo Fighters, Ozzy Osbourne, Blink-182, and this year, Metallica, ironically delivering the perfect exit to this particular Never-Neverland.

Previously by Peter Paras