Diamond Select's Nightmare Before Christmas Action Figures Revealed
---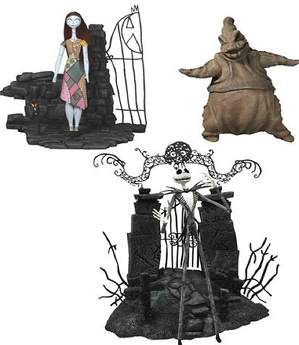 click to enlarge
Diamond wouldn't be the first to take on this license, but the diorama bases are a boon to those of us who could never get previous Jack Skellingtons to stand up straight. Sally will even come with alternate kneeling legs so the dress sculpt looks right in either signature pose. Oogie Boogie has a removable face and a stone floor base (not pictured), and Jack just has a base that pretty much rules.
And I say that not even being much of a fan of the film. So I can't imagine how badly all the goth couples who used Jack and Sally as wedding cake toppers are foaming at the mouth right now.
Ya might wanna preorder, pronto.
via ToyNewsI