The Robot's Toys: Comicave IRON MAN Super Alloy "Shotgun" Figure (and War Machine/Iron Patriot)
---
Comicave Studios are a Singapore-based collectibles company looking to make a splash in the U.S. market, and if their first big offering distributed through Bluefin is any indication, they're going to do it. "Shotgun" is an obscure variant Iron Man armor – one of many seen in Iron Man 3 – but its gimmick of having supersonic sound and fighter pilot-inspired armor makes it one of the more eye-catching versions. Just so I could compare, Bluefin sent me previous figures of War Machine and Iron Patriot.
UPDATE, TO CLARIFY (per the publicist): "Regarding the 2 other ones, they are all part of the same line as Shot Gun (Super Alloy), but are actually not made by Comicave. Play Imaginative was the manufacturer for Iron Patriot and War Machine MK 2, but they no longer exist as a manufacturer and are now just a licensee. Comicave manufactures the Super Alloy items now; starting from Shotgun."
All three come in window boxes with opening flaps for display, though Shotgun's is slightly taller. The packaging is collector-friendly, and shows off most of the pieces save for the base in WM and IP's case – Shotgun's box has the extra room where it can show.
Also not shown – each figure comes with a mini-screwdriver to change the batteries, and a cloth to wipe fingerprints off the metal parts. That's going the extra mile in a way I've never seen before.
While Disney's recent diecast figures for Star Wars gave the impression that metal figures are clunky and have oversized screws in them, Comicave's feature a ton of articulation and well concealed connectors. Then again, these do cost about five times as much, so they need to be five times as good. And they are.
Billed at 75% diecast metal, Shotgun feels like he's metal in the legs (upper and lower), crotch, forearms and torso. War Machine and Patriot, who feel heavier, also have metal biceps.
Batteries come installed, and each figure features light-up eyes and ARC reactor. IP and WP also have light-up bases that require AAs (not included) while Shotgun's base design is different. We'll get to that.
Shotgun also has a flip-down visor, and his eyes look even cooler lighting up underneath it.
It's tough to count the articulation points, but a close-up of the foot alone should give you some idea. Many areas of the armor have sliding points to allow the limbs full range of motion. The blurry closeup below of the shoulder articulation may give you some idea.
This is Shotgun's base. It comes with both a rigid, clear stand and a flexible arm for flight poses. The claw does not grip very tightly, however, so you have to be careful balancing him.
Here's some extra articulation on WM/IP – the cannon, which already has like three joints in it, plugs into a U-shaped groove which serves as a track for it to move around the figure's back in multiple configurations.
Shotgun also comes with repulsor blasts – one each for his hands, and one for his back. The back one is exclusive to him.
Scale-wise, he fits okay with Marvel Legends, provided you ignore the fact that the armor would have to be bulkier to fit a man inside. But marvel does that most of the time anyway. Here he is with ML Ghost Rider, two larger Marvel Selects, and the Green Lantern movie Hector Hammond.
War Machine has grips too, but they're not flexible.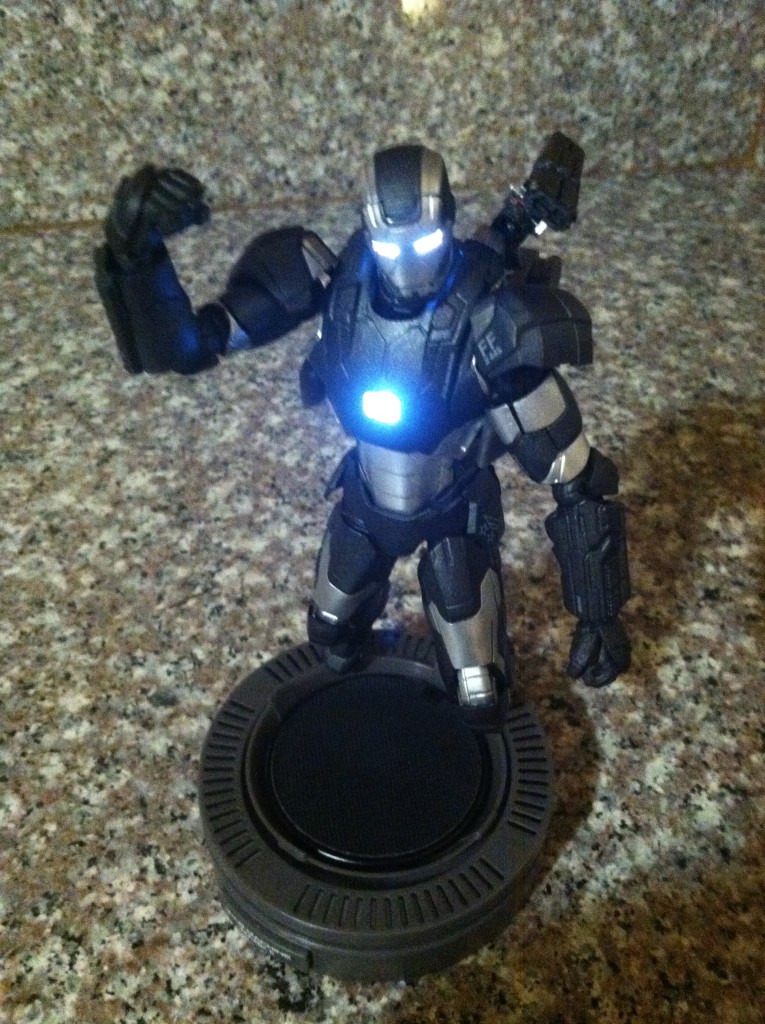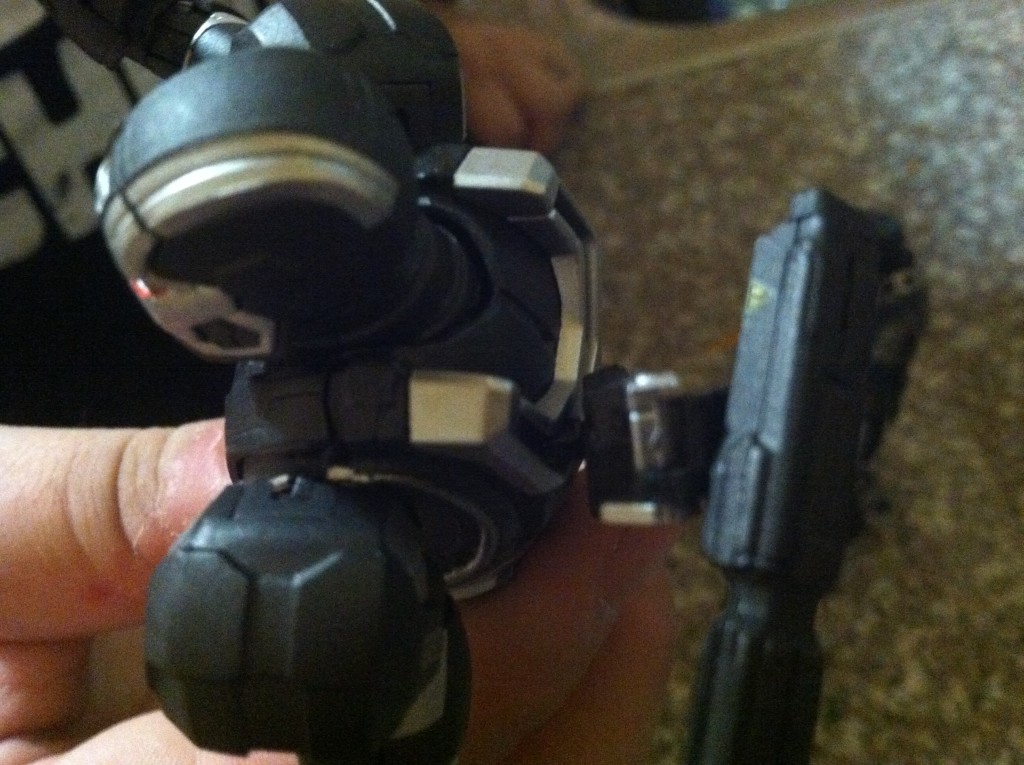 Each figure comes with multiple hands, though in Shotgun's case only one set is made to fit the repulsor blasts.
You know figures are good and poseable if they can pull off wrestling holds.
"It's over, Chico!"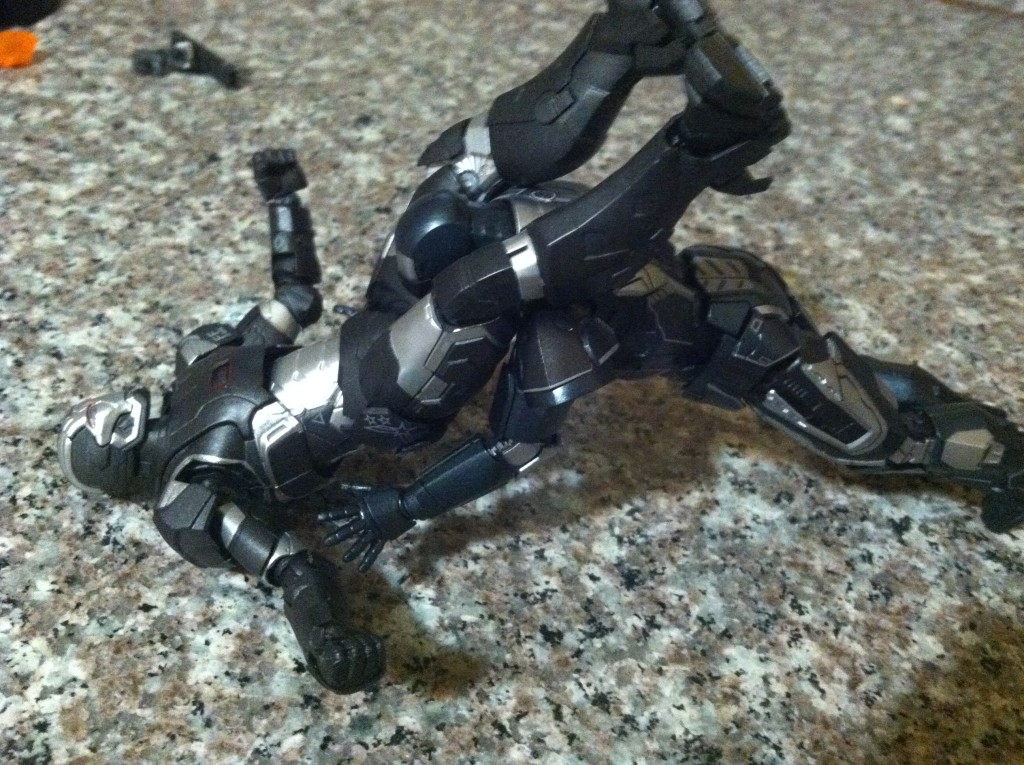 In case you were wondering – yes, Iron Patriot and War Machine are the same base figure. However, Iron Patriot comes with battle damaged parts you can switch out.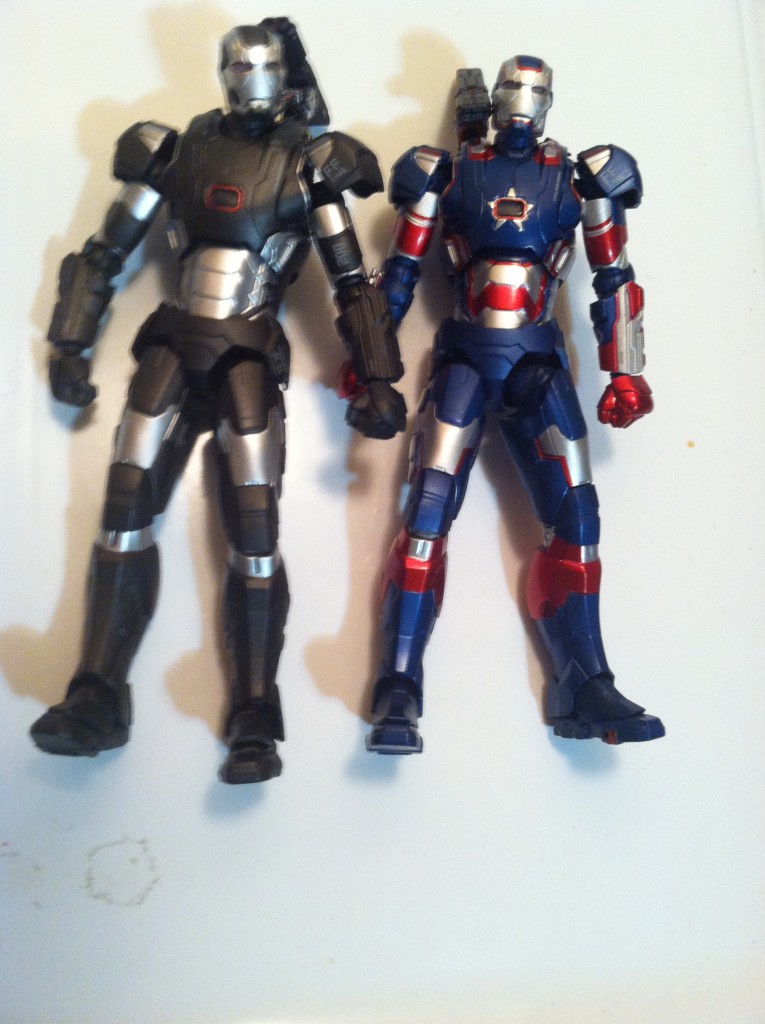 You have to look closely, but notice the little nicks and burn marks on his faceplate, shoulder pad, chest armor and thigh. War Machine does not come with those extra parts.
"Vote for me! I support your right to bear armor!"
"At last! The IRON CENTIPEDE!"
"Whoah! Almost lost my balance there."
Shotgun retails for around $160, while Patriot and WM are maybe $20 cheaper. Seems weird that the less popular character would cost more, but there it is. As you can see, he is incredibly detailed and very poseable, as he should be at that price. It may be more than you think you want to pay for a 6-inch figure, but if you do, I think you'll feel like all that cash is on full display in the toy itself.
The only negative is that my Iron Patriot had a kneepad fall off. Some superglue ought to get it right back into the slot, but had I paid $140 I would feel like I deserved it to be glued right the first time.
Bryce Abood contributed photography to this article.
(And yes, we are working on getting a better camera.)
Comicave is doing the "Igor" armor next. That should be quite something.