15 Minutes Of Game – Idle Management And…What Is That Smell?
---
Idle and management games have been a favorite of mine since mobile gaming became a thing. The pure laziness of tapping and letting the game do the work for you is pretty damn American. The idle/management games i chose  were the ones that kept me entertained all week. I started a new job as a Lyft driver recently in addition to writing for Topless Robot and working my full time job. In between fares, this week's games fit perfectly. Be a crazy cat lady, mine for gems, and generally just be a lazy gamer.
Cat Condo – Zepni LTD – free
One of the games that took me by surprise has to be Cat Condo. I ended up playing this a lot longer than i was anticipating. It is surprisingly addicting. The basis is as easy as any Idle game, combining cats to make new cats that generate more income. Each level gains an extra space in the tower and before you know it, you've got thirty five cats and the neighbors are calling because of the noise. Upgrades are made with real monies, the few i purchased were $.99 to $1.99. Finally, you get to be a crazy cat person in real life.
Tiny Rails – Tiny Titan Studio – free
I don't know what it is about trains that holds some fascination for most of us. The size. The power. The food. Actually…everything but the food. Tiny Rails Is a fun train management game. In addition to just traveling across the country/world, the strategy of buying in-demand supplies is enjoyable. Don't let your grandfather down. Keep growing the company, the train size and profit, and do your best to bring trains to the cusp of innovation once again.
Bud Farm: Grass Roots – LDRLY – free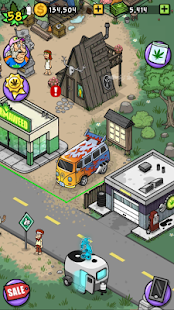 With the passage of some laws last week, more folks have access to the devil's lettuce. For those in states or countries where it's still illegal…there's Bud Farm: Grass Roots. Most games are challenging and offer ploys to keep you involved. This one however is just plain fun. The characters are ridiculous and the animation is well done and entertaining. Real money upgrades seemed well balanced for the price. I would recommend this game to anyone with time to kill and a sense of humor.
Hill Climb Racing – Fingersoft – free
Here is an oldie but a goodie you may have forgotten about. Hill Climb Racing is a fun way to break your neck. Repeatedly. The levels and vehicles in this game are some of my favorites. Restarting the game, i lamented how slow I was driving and the lack of distance. After almost no time at all, you're crushing in a giant Jeep with huge tires across sand dunes or the moon. Even though the sequel to this effort has already been out for some time, the freshman release in this series is my favorite.
Idle Miner Tycoon – Fluffy Fairy Game GmbH – free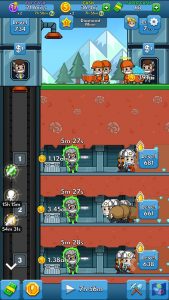 This is the game that i spent the most time on this week by far. There is so much to keep you involved and give you something to do. If one mine is petering out and your money isn't going as far towards upgrades, just switch to another mine. Expeditions take a few hours but grant super cash, coins, and boosts. Having multiple managers makes it easier to switch back and forth keeping the money flowing in faster. This incredibly addicting addition to the idle games market is worth checking out.
That's it for this week. Have fun playing these games, make it to the weekend and don't forget to take a little time for yourself.