Two Unproduced Lost in Space Teleplays Will Be Published as Comics
---
This is great news! I'm excited for more adventures of Matt LeBlanc and…
Oh, right. The real Lost in Space. Seems the Irwin Allen archives recently turned up two scripts for what would have been the show's next season had it continued, both written by Carey Wilber. American Gothic Press will be adapting them with writer Holly Interlandi, and artwork by Kostas Pantoulas and colors by Patrick McEvoy.
And in comic-book form, you can actually make the aliens look real.
From the press release:
The series is being overseen by prolific television producer Kevin Burns (ANCIENT ALIENS, THE CURSE OF OAK ISLAND, STAR WARS: THE LEGACY REVEALED). Burns has been responsible for developing and producing a number of Irwin Allen-themed projects and television specials over the years and, along with Legendary Television, is currently developing a new, updated version of LOST IN SPACE for Netflix. "LOST IN SPACE captured the imagination of an entire generation back in the 1960s. Even after fifty years, it continues to inspire the today's top science fiction and fantasy writers," says Burns. "Finding these scripts, and realizing them in the form of comic books, gives us a rare peek into what Irwin had in mind for the series' much anticipated fourth season."

"What I love about LOST IN SPACE is that it aired at the tail-end of Sci-Fi's wide-eyed fascination with exploration instead of dystopian drudgery," says Interlandi, AGP's Editor-in-Chief. "Space, aliens, the universe—it was all still fun and exciting. Carey Wilber really captured that in his scripts, and putting them to the comic page has been an awesome experience."

The first story arc is an adaptation of Wilber's "The Curious Galactics". It will run three issues and will premiere in March 2016. The first issue will ship with four collectible covers, which are pictured below.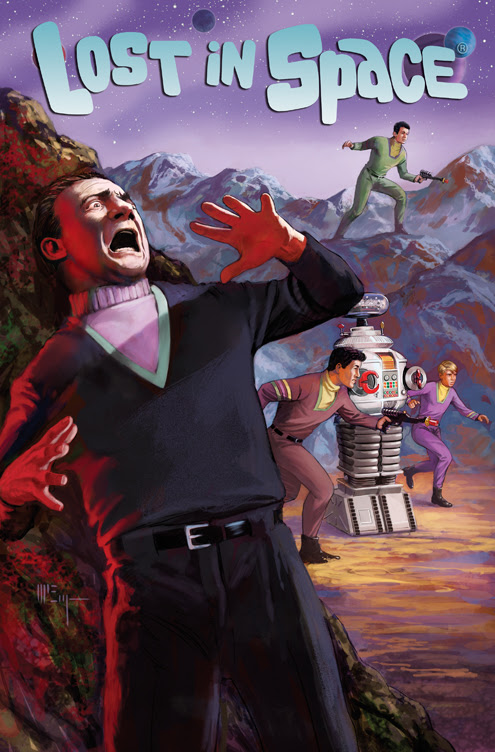 I hope they don't come out on a day when me and some friends are at the beach in a kleptomaniac mood…
…because then there's a danger we'll rob 'n' sun.