Super Awesome Japanese Thing: Diet Beer
---
I've just booked a one-way to Narita.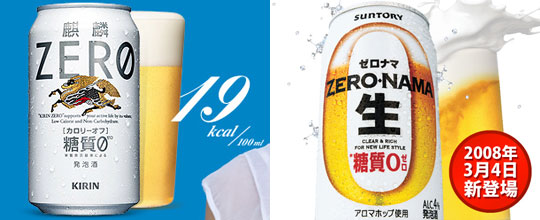 Trends in Japan has word that a new booze market has been created this very week, as beermakers Suntory and Kirin have espectively unveiled Zero-Nama and Kirin Zero, beers with zero sugars in them.
Both also come in close to nil in the calorie department, Kirin Zero with 67 calories for a standard 350ml can and Suntory Zero Nama with 81 calories. Though it should be noted that both of these are happoshus, and thus not technically beer.
Arrgh! So close to perfection!
Sapporo, meanwhile, has a 50% reduced calorie actual beer planned for release on February 27, which weighs in at 119 calories and 4.6g sugar. Sapporo already has a low calorie happoshu, Sapporo Slims, which has 74k calories and 1.4-3.15g sugar (no, we?re not sure why it varies).
I'm pretty sure I'm going to name my child Sapporo Slims, so this isn't a total loss. Oh, and Sapporo's half-cal beer is called Beer Fine, which makes me extraordinarily happy.