6 Movie Stars Who Should Be Batman Villains
---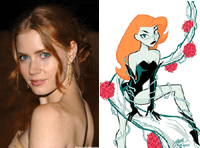 By Rebecca Kelley
Christopher Nolan's reboot of the Batman franchise has proved successful with his genius casting of fanboy-approved Christian Bale as the titular hero. With Cillian Murphy as the Scarecrow in Batman Begins and the late Heath Ledger's spine-tingling turn as the Joker in The Dark Knight (slated for a July 18 release), Batman's villains are getting better and better. Below, Topless Robot shares some other casting suggestions for future Batman characters, both good and bad. We'd hate to see the franchise take a sharp turn towards WTF (cough*Spider-man*cough), so we've thought long and hard to come up with actors adequate to suit up in Gotham City.
1) Elizabeth Banks as Catwoman


Memorable as the bookstore salesgirl in The 40-Year-Old Virgin, Elizabeth Banks is both sexy and funny. She held her own as the lead in Slither and provided a sneak peek at her dramatic chops when she guest-starred on Scrubs for several episodes. We think she'd make the perfect sultry night prowler and a force to be reckoned with against the Dark Knight himself.
2) Ron Perlman as Mr. Freeze


We love him as Hellboy and he's got just the imposing stature (and cranial shape) to play Mr. Freeze, the icily monotonous scientist-turned-villain. Just don't crack any ?Ice to see you? jokes.
3) Amy Adams as Poison Ivy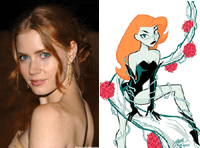 Amy Adams is attractive, likable, and is gaining momentum as an actress. Her most memorable roles are family friendly, perky, happy-go-lucky types (Junebug, Enchanted), so we'd love to see her change things up a bit and play Poison Ivy, the sexy red headed plant fanatic.
4) Matt Damon as the Mad Hatter


We've seen Matt Damon play stoic, action-fueled Jason Bourne for three movies now, but lest we forget that he tackled the title role of a creepy, unsettling sociopath in The Talented Mr. Ripley. We'd love to see Matt don a floppy hat and cackle maniacally about tea time in Wonderland, all while mercilessly torturing Batman.
5) Philip Seymour Hoffman as the Penguin


While it's hard to top Danny Devito's memorable turn as the Penguin in Batman Returns, we're willing to bet that Philip Seymour Hoffman would do a pretty damn good job if he were given the chance. His Oscar-winning turn in Capote proved that he can immerse himself in a character, so why not hand him Oswald Cobblepot and let us become mesmerized in his transformation?
6) Guy Pearce as the Riddler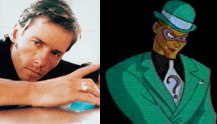 Chris Nolan, if you're reading this (of course you are, you love Topless Robot), understand that this is the PERFECT casting choice for Edward Nygma. Guy Pearce has worked with Nolan before in Memento, and his polished, clean cut, intelligent role in L.A. Confidential would be perfect for portraying the criminal mastermind and puzzle loving Riddler. Forget that manic Jim Carrey bullshit: we all know that The Riddler should be played with cool, measured conviction, and Guy Pearce is just the man for the job.
Batman character images courtesy of Wikipedia.