Detroit Metal City Toys Are the Platonic Ideal of Heavy Metal Action Figures
---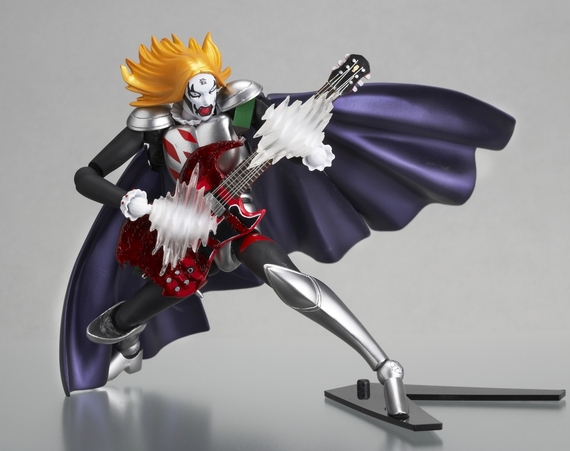 First off, Detroit Metal City is only an unlicensed manga, so you knuckleknobs can't go illegally downloading any anime of it?it doesn't exist. Second, the manga has nothing to do with KISS?instead, it's about a Swedish-pop loving kindergarten teacher who moves to Tokyo and becomes lead singer of a totally obscene metal band (like you do). That's him above in his Krauser persona, and if you aren't in awe of the high-speed/shredding/blurred extra hands in the pic above, then there's just no hope for you. Krauser will be one of three Detroit Metal City figures made by Organic Hobby as part of their highly poseable and increasingly wonderful Revoltech line. You have to check out the other two toys after the jump:

Next up is Jagi, who, although you can't see it in this pic, has an attachment setting his hair on fire. It is beyond awesome.

And here's the drummer, Camus. I wasn't actually going to show Camus until I realized HE PLAYS THE DRUM WITH COBRA INSTEAD OF DRUMSTICKS. Sorry, Dethklok?I'm afraid you guys might as well be playing Simon & Garfunkel compared to these guys. The toys should be out in July.
About The Author
---
Robert Bricken is one of the original co-founders of the site formerly known as Topless Robot, and its first editor-in-chief, serving from 2008-12. He brought the site to prominence with "nerd news, humor and self-loathing" as its motto, raising it from total internet obscurity to a readership in the millions, with help from his savage "FAQ" movie reviews and Fan Fiction Fridays. Under his tenure Topless Robot was covered by Gawker, Wired, Defamer, New York magazine, ABC News, and others, and his articles have been praised by Roger Ebert, Avengers actor Clark Gregg, comedian and The Daily Show correspondent John Hodgman, the stars of Mystery Science Theater 3000 and Rifftrax, and others. He is currently the managing editor of io9.com. Despite decades as both an amateur and professional nerd, he continues to be completely unprepared for either the zombie apocalypse or the robot uprising.