The 10 Most Undeserving Celebrities Who Got Action Figures
---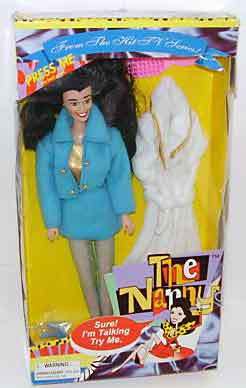 By Brian Heiler
Being immortalized in plastic is one of the true benchmarks of being a celebrity; you might be a singer or actor or whatever, but being able to see your likeness in Toys "R" Us means you've reached an elite level of fame that sets you apart from your peers. Still, like any exclusive club, occasionally a bit of riffraff gets in?and toymakers find odd or low-tier celebrities who no sane, loved child would want an action figure or doll of, and then make action figures and dolls of them anyways. Here are then ten most inexplicable celebrity toys of all time.

type="text/javascript">
10) Vanilla Ice


Mattel raced this 12-inch likeness of pop culture skid mark Robert Van Winkle?a.k.a. Vanilla Ice?to stores just in time to see a nation grow bored of the white rapper and move on to grunge music. Even his box office non-smash movie Cool as Ice failed to raise his career.
9) Victoria Silvstedt


Although one of the most popular Playmates (thanks to her already doll-like body and platinum blonde hair), Victoria Silvstedt is really only famous for being in Playboy many, many times, with none of the mainstream crossover "fame" achieved by Pam Anderson or Jenny McCarthy. Still, Playboy did her right by having some toy company release a 16-inch, anatomically correct doll of her in removable lingerie. [Actually, I was working at ToyFare magazine when these things came out?it was exactly like a tiny fuck doll, complete with tiny but appropriately placed holes, rooted hair and dead eyes. It raised many disturbing questions and made us all feel weird and dirty. -Rob]
8) Redd Foxx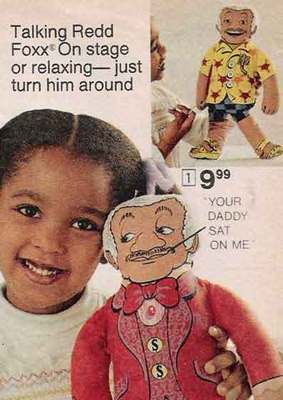 Redd Foxx is a comedy legend and some of his smuttier material could still make you blush. So it does makes you wonder what Shindana was thinking with this plush talking doll. Imagine your children curling up with the man who recorded the legendary comedy record ?You Gotta Wash Yer Ass." Of course, if Foxx would have sold well, maybe they?d have moved on to Rudy Ray Moore and Richard Pryor. That would have been sweet.
7) Jerry Springer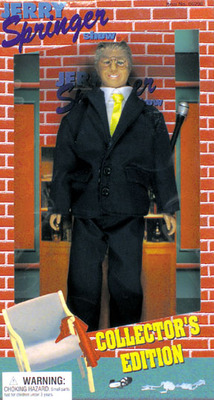 There was a brief time when Jerry Springer was both popular and before he effectively created the genre of "watching extremely stupid people behave terribly," a.k.a. reality television. Even during those 3-4 days, it's hard to imagine who would want a Jerry Spring doll, or why. However, the toymakers did capture his likeness perfectly?tts smarmy, grinning head sculpt is exactly how Springer looks when his guests start swinging at each other.
6) Sonny Bono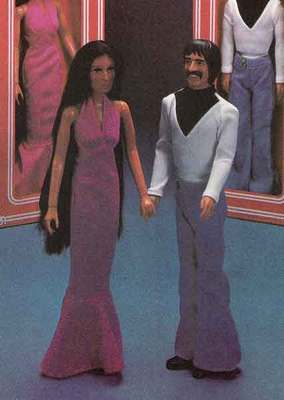 Mego had huge success with their Cher doll line, but making a likeness of her comic foil and ex-husband Sonny Bono wasn?t really "necessary". Despite creating a number of embarrassing outfits for Sonny such as ?Space Prince?, little girls didn?t think Bono was the new Ken, and Sonny was quietly dropped from the line.
5) Fran Drescher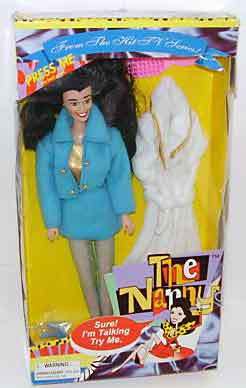 The shrill star of The Nanny, Fran Drescher has one of the most grating, annoying voices in the history of civilization. So the fact that this action figure talks is a sure sign that Satan is alive and well working in the toy industry. I need to find several of these and give them to the children of people I don?t like.
4) Captain & Tennille


Known for their breezy radio friendly pop songs such as "Muskrat Love," light rock icons Captain and Tennille were released by Mego as fashion dolls during the height of their popularity. Kids really didn?t find the duo all that interesting and the toys sold poorly. It didn?t help that the Toni Tennille doll was released without ears. The Captain head sculpt was recycled into the KISS Paul Stanley doll, something neither of them probably appreciated.
3) Barbie Benton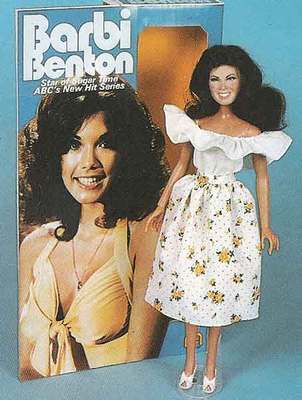 In one of the greatest lapses in good judgment of all time, Mego attempted to sell a doll of this then five-time Playboy centerfold model as a competitor to Barbie. Shockingly, toy buyers, most likely fearing parental outrage, didn?t bite. Plus it?s hard to sell outfits for a doll that?s naked for most of the day.
2) Xuxa


Most people know this doll from the Soundgarden ?Black Hole Sun? video than what it really is. A superstar from South America, where the lucky children have TV shows of hot women shaking their butts, Xuxa never made much of an impact here, mostly due to her non-mastery of the English language. Kids were left to wonder ?whoxa? when they saw this doll in clearance stores.
1) Rodney Allan Rippy


In the mid 1970s, uber-cute child actor Rodney Allan Rippy was a sensation as the spokesperson for the Jack in the Box restaurant chain…so much so that Shindana Toys thought he needed his own doll. It?s a cruel, inhumane world when Rippy gets his own toy but the ?Where?s the Beef" lady totally got the shaft.