The Lady Is a Tramp Predator
---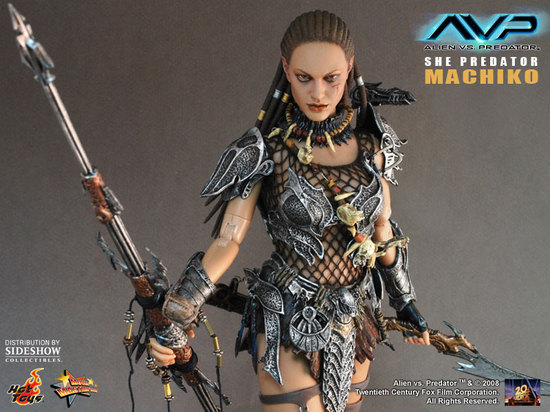 If you've ever wanted to be sexually aroused by the Predator but found it strangely difficult, Sideshow Toys has some exciting news for you. The company will be releasing the above She-Predator?an original character (i.e., sexy chick in an alluring Predator armor/S&M lingerie combo) inspired by some chick in the Aliens Vs. Predator comics from Dark Horse. As Sideshow explains:
MACHIKO is configured as a Human Warrior, recognized by the Scar Predator, who gives her the scars on her face, mask and ALIEN head shield. Given the Predator's strengths and weapons and follow the mission of Predators, SHE PREDATOR- MAHIKO guards and fights against ALIENS.
I've read that five times, and it has not made sense to me yet. Still, Machiko is decked out with the following gear:
? Articulated shoulder cannon
? Extendable spear
? Closed Shuriken
? Wrist blades
? Predator mask features with warrior scar
? Sword with sheath
? Skull necklace
? Neck Wrap
? Alien head shield
? Predator skull featured display base
And can be pre-ordered here for $160. Or you can just check out more pics, including her in her mask. Whatever floats your Predator-loving boat, you sicko.