Taste the Rainbow of Lantern Figures
---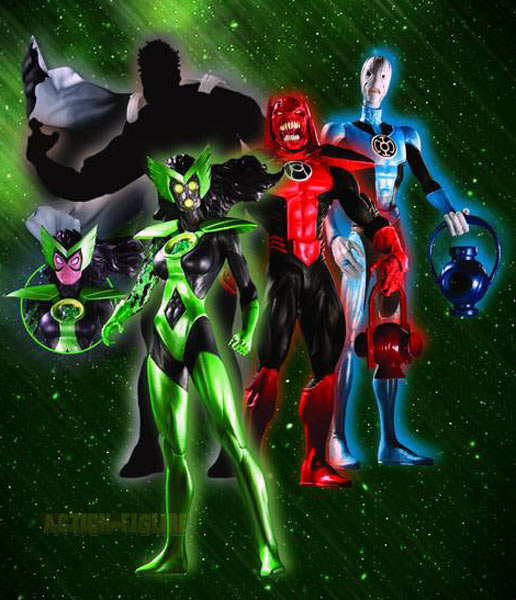 This post might have Green Lantern spoilers; I'm not sure. Just read at your own risk.
You know, for all the shit Grant Morrison and Mark Millar and Jeph Loeb and all those people get, there's one comic writer whose name I've never heard maligned: Geoff Johns. I'm sure there's a TR reader right now, insane with rage that I think Johns is considered good, but as far as I can tell, almost everyone thinks he's a great writer (some say the best of both Marvel and DC), and genuinely everyone says he's a great guy (myself included). So I'm actually a bit surprised that it's taken DC Direct so long to make figures from his Green Lantern/color war opus. Not counting the shadow in the back, that's:
? Alpha Lantern Boodikka–the Alpha Lanterns are like the insanely powerful Internal Affairs department of the Green Lanterns
? Atrocitus the Red Lantern–he's the dude that killed Abin Sur, who ended up giving his ring to Hal Jordan
? Saint Walker–the first Blue Lantern.
FYI, while green is the color of bravery in the Lantern world, red is rage and blue is hope. And then there's the Black Lanterns, where black is Death n' Evil n' Bad Fucking News. So here's your (potential) spoiler–the Black Lanterns are all the living dead (nice!) and the first Black Lantern is none other than the late Earth-2 Superman. So, uh…that's some seriously Bad Fucking News indeed for the Lantern Corps. The figures are due in September.