TR Contest: Ultimate Nerd Drinking Buddy
---
I'm about to get snowed in for the weekend. After the last post, I ran to the grocery to get the essentials to help me and Ms Robot survive over the weekend — frozen pizza, chocolate donuts, booze (no vegetables, strangely) — and I began thinking about who else I'd like to be snowed in with. Obviously, Ms Robot is great, but I've been snowed in with her several times, and she's no longer charmed by my habits of keeping myself warm with bourbon the entire time.
So here's what I want you to do — tell me you who'd most love to have a drink with while snowed in. You have a full bar and — here's the important part — neither of you having working genitalia. I don't know if it's because of a freak ski accident or what, but I'm not having this contest turn into a depraved faux FFF. All you can do is talk and drink, so seriously, who would you genuinely like to converse with for three straight days over a few gin and tonics, Manhattans, or bottle of wine? My choice was instant.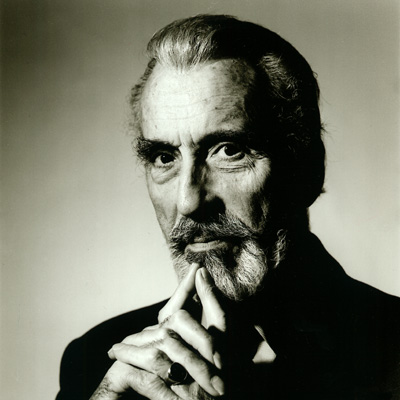 ?Sir Christopher Lee. I've talked about my nerd crush on Sir Christopher many times before, but it's not just because he's a nerd god, but because the man is fascinating. Besides hearing about his remarkable career, the man knows his art, music and literature. I don't even know that I'd want to ask as just listen to his memories of working on the Hammer films, as well as his modern movies; his travels; his love of Tolkien and the Lord of the Rings books; and more. I love the man, and would be totally enraptured.
Now it's your turn. Remember, YOU CANNOT HAVE SEX WITH THIS PERSON, and I will throw out any entries that make this smutty. I really want to know who your nerd idols are, and who you'd genuinely like to talk with. One entry per person, contest ends at 12:01 am EST on Monday 8th, assuming Ms. Robot doesn't throw me out for my drunken shenanigans over the weekend and I freeze to death.