Heroic Actors' Equity Association-Man Puts Stop to the Menace of the Spidey Musical
---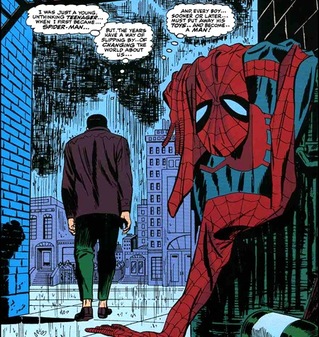 In the wake of last night's accident that sent a stuntman to the
hospital, Actors' Equity Association has announced it will halt
performances of Spider-Man: Turn Off the Dark until better safety measures are instituted.

"Actors' Equity Association is working with management and the
Department of Labor to ensure that performances will not resume until
back-up safety measures are in place," the labor union, which represents
live theatrical performances, said this morning in a statement released
to Broadway World.

As we reported earlier,
aerialist Christopher Tierney, who doubles for Spider-Man and two
villains, fell about 30 feet when the cable to his harness snapped
during the closing minutes of Monday night's performance (the New York Times has amateur video of the mishap.) …

Inspectors from the New York State Department of Labor are visiting
the Foxwoods Theatre today to conduct their own investigation. "We'll
be talking to the production team, checking the harnesses, cables, and
other equipment, and trying to determine what happened, and we'll
have more information after that," a department spokesman told The Times.
In times of need, a hero will rise. That hero may be part of actor's union determined to stop Julie Taymor and Bono from systematically crippling the entirety of New York City's musical theater actor pool, one by one, but I'd say he's a hero nonetheless.