There's Gonna Be a Doctor Who PS3 Game (Updated)
---
Aaaaand that's it. That's all I got. The BBC apparently posted a trailer for a game called Doctor Who: The Eternity Clock, due for PS3 and the PS Vita at some point, then immediately took the trailer down, and now all we nerd sites are left in the unfortunate position of needing to report the news that there's going to finally be a Doctor Who game for modern consoles, but we have no art or video or information or anything to tell you. Sorry about that. If it makes you feel any better, apparently Matt Smith and Karen Gillan made a surprise appearance at the Way Station in Brooklyn last week, which is of course where I held the lovely TR meet-up last night (thanks to everyone who came out!). They didn't tell anyone, no one knew they were coming, but apparently they heard of the Who-themed bar and stopped by and everyone who goes to the Way Station on a regular basis was devastated they missed. At least Smith had the decency to sign the inside of the Way Station's TARDIS bathroom, though.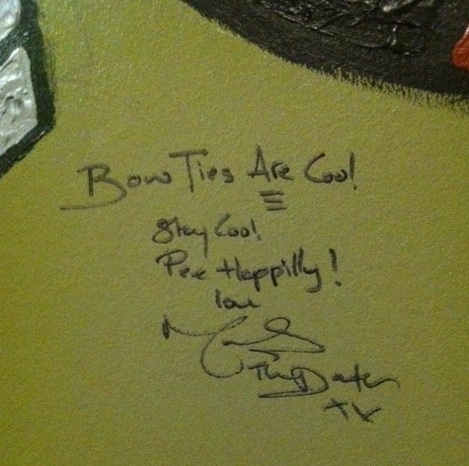 ?
But anyways… yeah. Doctor Who game for PS3. Eventually. Moving on. (Via Kotaku)
UPDATE: The trailer's back out, and I posted it above. It still doesn't explain anything, though. Thanks to everyone who sent this (and the correctly angled Matt Smith signature pic) in.