Lawrence Kasdan Returns to a Galaxy Far, Far Away
---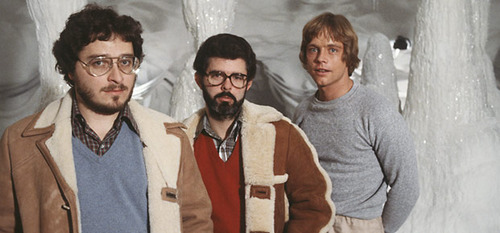 Here's something to take your mind off of holiday travel and the turkey/judgment from family members awaiting you tomorrow: Lawrence Kasdan is returning to Star Wars. From
The Hollywood Reporter
:
Lawrence Kasdan and Simon Kinberg have closed
deals to write installments of the new Star Wars trilogy, sources tell
The Hollywood Reporter. The
pair will write either Episode VIII or Episode IX — their
exact division of responsibilities is yet to be determined — and also will come
aboard to produce the films.
Kasdan — pictured above with George Lucas and Mark Hamill — is obviously no stranger to Lucasfilm, having provided the screenplays for The Empire Strikes Back (following the death of original writer Leigh Brackett), Return of the Jedi and Raiders of the Lost Ark. As for Simon Kinberg, his most notable work thus far is producing X-Men: First Class, a superhero flick that is criminally underrated. He's penning X-Men: Days of Future Past as well, so his geek credentials are more than in order.
Will Kasdan's distance from the franchise work in his favor? What exactly the hell are these movies going to be about anyway? What will Kinberg bring to the plate? How come previously named Episode VII screenwriter Michael Ardnt won't be involved with the subsequent sequels? Expect the answers to these questions to become apparent in the coming days and weeks. So, you know, excitement.
Now before everybody gets too frenzied, we should remember that before the prequels came out Kasdan's Jedi script was regularly slammed by critics and fanboys alike. For all we know his ideas for the new films could involve a third Death Star and another Ewok dance party. Cautious optimism is the way to go here. Let's all just give thanks that Star Wars seems to have some genuine promise again.