Queen Elizabeth II Visits Westeros
---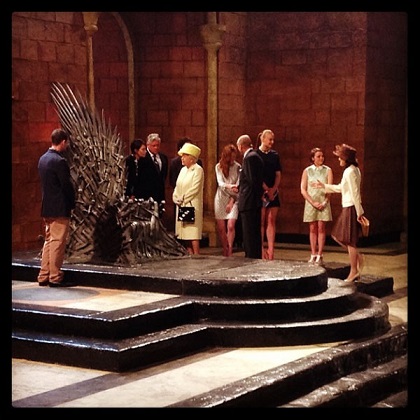 Instagram
Wow. During a trip to Belfast earlier today, England's Queen Elizabeth II visited the set of Game of Thrones. (Say what you will about The Sopranos or Sex in the City, but at no point did those HBO series' have their sets visited by royalty). Here's how it went down via E! Online:
Queen Elizabeth took in the sights while on set, from weaponry to costumes and other props from Game of Thrones. But the real moment everybody was waiting for was when Queen Elizabeth came upon the Iron Throne. Despite the hopes of Internet users everywhere, she did not sit upon the throne, she just marveled at the iconic seat.

Several cast members were also on hand to greet the queen. Co-creators and executive producers David Benioff and Dan Weiss were on hand, as were stars Lena Headey (Cersei Lannister), Maisie Williams (Arya Stark), Sophie Turner (Sansa Stark), Kit Harington (Jon Snow) and Rose Leslie (Ygritte). Harington even cracked a smile! Yep, Queen Elizabeth and Prince Philip, Duke of Edinburgh got Jon Snow to smile.
Is anyone else just really fascinated by this? I feel like a Spitting Image sketch is coming to life here. Hit the jump for more.

From Sky News comes this footage of the Queen's visit. Jump to 35:00 to see the surreal fun for yourself. Downton Abbey I can see the Queen watching. Sherlock even. But there's no way she's even seen a second of Game of Thrones, right?
Well nerds and geeks, you had a good run. But once the Queen drops by the set of your favorite show, you are beyond mainstream.
Man, this is weird.