Badass Arkham Origins Batman Cosplay
---
Kamil Krawczak
Click to Enlarge
Holy shitballs this cosplay is nuts! Julian Checkley, who we've featured on the site before for his Darth Malgus cosplay, is back with an Arkham Origins Batman that he made himself. There are a bunch more pictures below the fold.
Made over the course of about a month, Kevin LeProp 3D printed the parts, then Checkley painted and pieced everything together in Galway, Ireland. He ALSO built a ridiculously dangerous, fireball-shooting gauntlet and sent over a quick video of it at work:
Honestly, this is one of the coolest costumes I've ever seen. Take a look.
Kamil Krawczak
Click to Enlarge
Kamil Krawczak
Click to Enlarge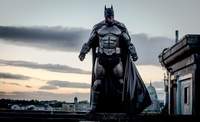 Kamil Krawczak
Click to Enlarge
Kamil Krawczak
Click to Enlarge
Kamil Krawczak
Click to Enlarge
Kamil Krawczak
Click to Enlarge
Kamil Krawczak
Click to Enlarge