The Robot's Toys: NECA Ultimate Leatherface and Retro-Style Video Game Freddy Krueger
---
It's October, and I guess NECA decided a great way to kick things off would be to send me these two horror figures for review. It's a tough job I have, but somebody's got to do it.
It's instructive to compare the two – one is the state of the modern art in incorporating as much articulation as is humanly possible into a film-accurate sculpt, while the other is a strange throwback, on a generic body, made with very modern techniques and detail. They're different scales – in real life Gunnar Hansen is tall and Robert Englund is short – yet the Freddy is a taller toy. And they both offer different answers to the dilemma of hiding obvious joints to make the figures look more like actual mini-replicas of people.
Let's start with a focus on Freddy.
While Freddy's sculpt is based on Robert Englund as seen in the Kevin Yagher makeup used in most of the movies, the color scheme on this Toys R Us exclusive is based on the 1990 Nintendo game, which used red and orange pixels. NECA frequently does game-based repaints, and while I really dig them when they do, say, a shaded Predator in purple and blue, the ones painted to resemble simple, early games are less interesting, like  Jason Voorhees all in purple save the mask, or a green Leatherface. So I'm not crazy about this color, but since Freddy can change his appearance anyway it's less of a problem on him.
I used to hate when companies would "revive the Mego style" – it generally meant poor sculpting and a cheesy looking costume to  mirror the actual toys of the '70s. I distrusted it on NECA's Django figures – done as such because Quentin Tarantino wanted '70s-ish toys – yet they may have changed my mind on this. Yes, they use a similar base body, but the costumes and sculpts are as good as modern toy tech allows. They remind me of what Sideshow Toys used to be, and are as playable – yes, I remember $30 Sideshow figures many years ago, and I still have my Chief Crazy Horse. These are also $30, and they're 2/3 the size, but very nice to display and solidly made for play. Dammit, NECA, you might have hooked me.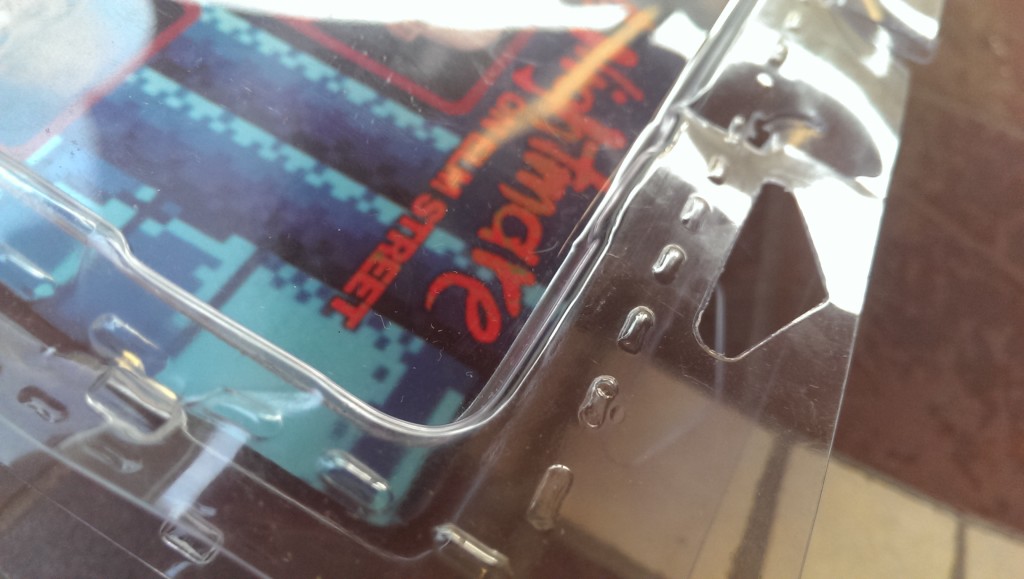 The package looks collector-friendly, but mine would not open without a fight, or a couple of tears in the plastic.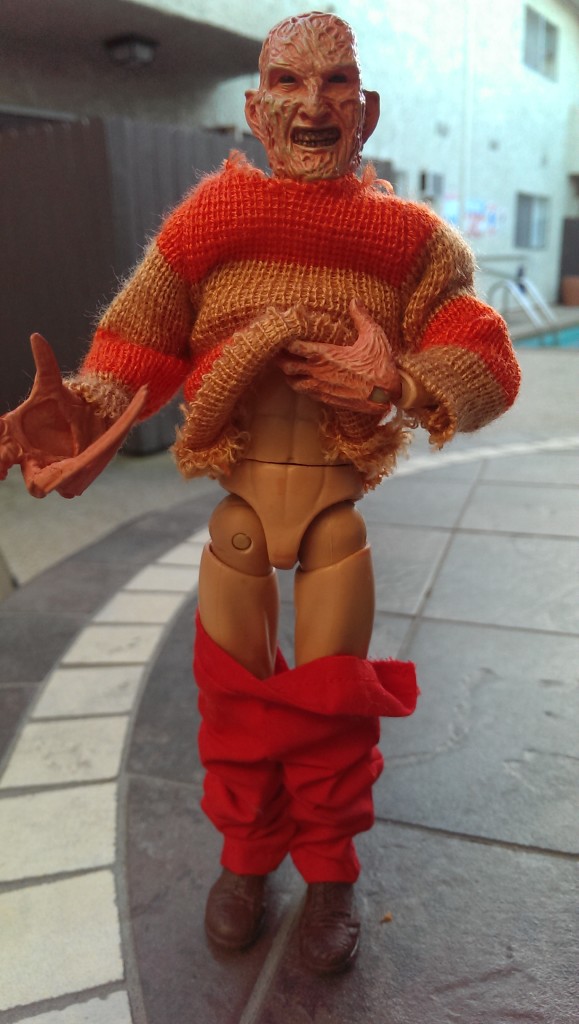 Weirdly, Freddy's torso is sculpted and painted with Freddy burns at the top, and generic abs at the bottom. I'm not sure why – if you're going to sculpt part, why not all? He has ball shoulders, neck, hips and wrists; hinge elbows, knees, and ankles; and a cut waist. The ankles suffer a bit by not having a ball joint, since they angle slightly outward anyway – you may need to give him a bit of a squat to get both feet flat on the ground. His clothes may be removable, but not in any easy way. Only the hat comes off with no trouble.
Leatherface is part of NECA's new "ultimate" line, featuring iconic characters with multiple accessories and extra articulation, designed to be the best version of that particular look they can be. They come in window boxes with a velcro fastener, like the video game figures.
Bubba Sawyer, as he was known in the original movies, comes with his signature chainsaw, as well as a meathook, knife, hammer and cleaver. Plus two different heads, depending which look you prefer for him.
The insert behind him shows an awesome diorama that will probably only ever exist at NECA HQ.
Leatherface's apron is cloth, and his shirt is a rubbery overlay that conceals an ab crunch joint underneath. He has ball-jointed neck, shoulders, elbows, wrists, waist, hips, knees and ankles. He's more articulated than Freddy, but much of it is just as cleverly hidden beneath his outfit. His arms are rubbery generally, while his legs are a harder plastic.
I'm sure NECA studied up and based their proportions on movie reference material, but he feels weirdly proportioned compared to older figures of him, including NECA's Cult Classics – prior figures buffed up his arms and made the weapons bigger. Here, some of the smaller tools barely fit his hands, his torso is huge relative to his arms, and the chainsaw he wields seems less mighty. They're human proportions rather than action figure proportions, and while that's not wrong, it takes getting used to.
Here we see how they both measure up to a more standard 6-inch figure
In the end I found myself liking the Mego-style figure more than the NECA-style one! I'm as shocked as anybody. I think I may have to get a Jason and Leatherface in that style to keep things going. I'm really kinda bummed now that I passed on the Charlton Heston they did, as it will likely be the only one.
But I'll be dreaming of companions for this fella…
Leatherface already found a figure family that suits him.