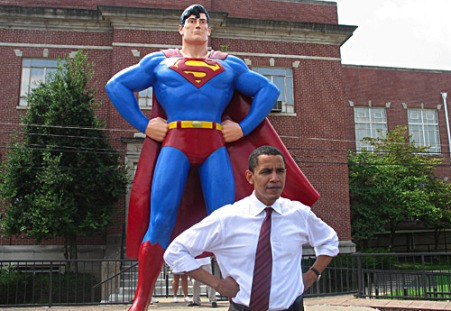 Barack Obama is the holder of many firsts in America, virtually all of which have been covered elsewhere. But I'd like to talk to you about him today because he is the first nerd to ever be president. Now, I don't want to start a political argument, so I'm not going to talk about his policies or anything like that?and if any of you get even slightly uppity in the comments, I will ban you hard your mother won't recognize your username. But whether you're a Democrat, Republican or Other, if you're reading Topless Robot, I think you can appreciate the significance that for the first time ever, a man who collected comic books will be the leader of the country.
Yes, Obama collected both Spider-man and Conan the Barbarian comics; he actually wanted to be a comic artist when he grew up. He owns all seven Harry Potter books. Wired says he's a Star Trek fan, and offers this awesome anecdote from Leonard Nimoy:
He is a big fan of Star Trek. He said himself: "I grew up on Star Trek. I believe in the final frontier." And, when Leonard Nimoy was the guest on NPR's "Wait Wait…Don't Tell Me!" in September, he said that he had run into "one of the presidential candidates" and that that candidate had, upon seeing Nimoy, given him the Vulcan salute. He refused to name the candidate, but said he "was not John McCain."
And of course, he traveled to the home of Superman, the tiny town of Metropolis, Illinois, and took the above picture of himself at the town's Superman statue, which he even put on his Senatorial website. I don't know what this will mean for nerds in the long run, but I do know one thing?Hayden Panetierre still doesn't want to shake his hand.