The 14 Best Quotes From Friday's Man of Steel Press Conference
---
Yeah, so I wasn't just at the Warner Bros. lot to look at Man of Steel costumes and props. The real reason was a press conference featuring some of the stars and filmmakers.
The "tribute" to JJ Abrams here is totally accidental, uh, I mean deliberate.
It was a lively discussion, generally pretty spoiler free, and I figured the best way to let you readers enjoy it vicariously was to compile a list of the best quotes from the day. So here you go.
1. Jor-El, Meet Bow-El (Movement).
"I had a very interesting experience being a father on this movie. I think Zack employed four babies as the recently born Kal-El, and unlike in my own experience as a father of two, I've managed to dodge all the piss and the poo, even though I'm pretty slick with a nappy. But on this movie, I got farted on first – that was okay. Pissed on – that was a little inconvenient. Then the topper happened under those hot lights. It was after lunch, to be expected, and I got a handful of the essential Kryptonian material. So I learned a lot. I had new experiences as a parent on this movie that I hadn't previously had. So thank you, Zack." — Russell Crowe, on how his experience as a parent informed his performance.
2. Well and Bad.
"Satan. That's where I go for my evil. I get my bucket, and I go down to the well, I say, 'Satan, are you down there? I gotta be evil today.' So I lower the bucket into the well, and the lava comes back up, and I drink it. And it hurts, but then I take some Alka-Seltzer and some Pepto-Bismol. No, I don't know. I really don't know. It couldn't be anything further from who I actually am, just a tall, lanky, goofy person." — Michael Shannon, on where he gets the ability to be so evil onscreen.
3. Butting in.
"She really liked Henry in the suit, I have to say. She did try to give him a little cheeky grab, which was very funny. She wanted to touch the suit, and she just happened to be at rear-end height – she's gonna kill me when she's older! So she reached out and gave it a little touch. But she's really into Miss Piggy right now – she just saw "Me Party" so today she asked me if I was going to work with Miss Piggy." — Amy Adams, on whether her 3 year-old daughter prefers Superman or the Muppets.
4. Love Means Never Having to Say You're Sorry.
"I felt like in the recent past, people have been apologizing for Superman a little bit. For his costume, for his origin, for the way he fits into society. We really wanted to say no, no, this is the mythology, this is how it is and it's supposed to be this way, and I think that's kinda the movie we made. We wanted to enshrine him where he belongs, and whether or not that's making it too important, I dunno, but it was the way we wanted to do it. It was fun to do." — Zack Snyder, defending his vision of the character.
5. In Case You Thought the Gay Subtext Was Just a Bryan Singer Thing.
"The first time she sees the suit, I love that line we managed to come up with, where she says, "Nice suit, son." Because it's been waiting to be revealed and if anybody's holding their breath more than mom, I can't imagine who it would be. You know – talk about your son "coming out"! I'm relieved and a bit overwhelmed at the havoc that it's wrought." — Diane Lane, on Martha Kent's reaction to Clark hiding his powers for so long.
6. Lego My Ego!
"I've got a question for Chuck [producer Charles Evans]– this is a really important question, Chuck, and I hope you can give me some sort of guidance here, because children across America, but particularly my children in Australia, need to know when the Jor-El Lego minifigure will be available…Have you seen your minifigure, Michael [Shannon]? It's pretty good, man. Apart from the mini-ness, it's a really good likeness." — Russell Crowe, asking the question that's really on all our minds. Evans responded, "I actually don't have that date, although I know that it is imminent."
7. Abs of Steel.
"Playing an icon, you don't try and be an icon, because that defeats the purpose. The responsibility attached is enormous, and the realization that it actually really, really matters meant that I wanted to put the most amount of work into representing the character properly, and that especially applied when I was working out in the gym. When you feel like you can't push any harder, or you can't lift any more weight, you think, hold on a second: I've got to look like Superman because there's a whole bunch of people out there who are relying on me to be that superhero. It really helps to push out those extra few reps." — Henry Cavill, revealing that the costume doesn't just have built-in muscles.

8. Michael Jacks 'Em.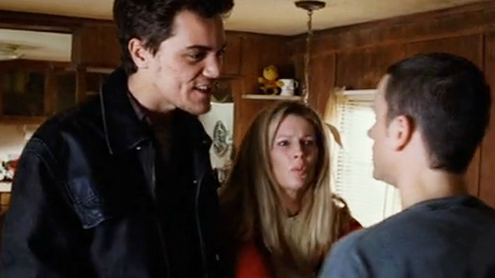 "It's no secret, I don't think, to anybody in this room that I'm much stronger than Henry is, so there were a lot of ice packs, I think, back at the hotel for Henry. Russell really kicks my butt in this movie; I mean, he's the Gladiator, what are you gonna do? 8 Mile – that's more a kind of awkward fight, really. That's the kind of fight you have when you just had sex with some dude's mom." — Michael Shannon, comparing fight scenes.
9. Daddily Doodley.
"It's a story about two fathers, and while I was writing the script I became a stepdad, and a dad, and my own dad died, and I never thought my own experiences would find a way into something like this. But if you boil it down to that, it's a man with two fathers who has to decide: which lineage do you want to choose? And both make him the man that he becomes." — David Goyer, on finding the heart of the script.
10. An Actor's Life for Me – and He.
"It wasn't about classic Superman material – when you see Clark traveling through the world trying to figure out what and why he is, I didn't go to source material for that; I just applied my own life to it. As actors, it's quite a lonely existence unless you have someone traveling with you the entire time; you spend a lot of time by yourself, and you meet new people, you make temporary family, you love them and then you never see them again potentially apart from the odd press conference. And you supply that to the character, and it's exactly what he experiences – new groups of people constantly, and then disappearing and having to introduce himself to these other people, and prove to them he's a nice guy who tries to do all the right stuff, and then all of a sudden disappears again." — Henry Cavill, finding the right emotions for Clark's pre-cape life.
11. It Is Forbidden to Interfere in Human History!
"I have a confession. I might as well just get it out there. I've never seen any other Superman movie. I haven't seen any of the ones with that fella in it, or the new young fella. I don't have any references in terms of cinematic experience. The only reference I have is the '50s black and white TV show that was on TV and I saw when I was a kid. So I really don't have anything to draw on. The simple thing for me is I read the script, I thought it was a complex and really cool story, and I thought that the problems Jor-El faced in terms of his decisions as a father were very interesting." — Russell Crowe, asked about Marlon Brando.
12. Milking the Subtext, Again.
"I don't think he necessarily speaks to the outsider alone – he speaks to everyone. That ideal speaks to everyone. We all need hope, no matter what century we're in, whatever state of life we're in, whether we're going through tragedy or not: it's just hope that everything will be okay. And if there is tragedy and a disaster happening, hope that we can overcome it. I don't think it's solely for those who are outsiders." — Henry Cavill, in response to a comparison between Superman's philosophy and that of gay-rights activist Harvey Milk.
13. Sounds Like That Would Click With Him…
"Superman's an alien, so it's probably, like, dolphin sounds, or something that human ears can't pick up." — Moderator Chris Hardwick, after a question about what Superman would have on his iPod stumped everybody else.
14. Feelin' Punchy.
"The first punch he throws is in defense of his mother, so it's not like…if someone was about to throttle your mom, you might throw a punch" — Zack Snyder, explaining why Superman realizes he finally has to fight.
Later this week, I will have an interview with Antje Traue, who plays ferocious femme fatale Faora in Man of Steel. The movie opens June 14th.