Ask Luke's Mother-in-Law: An Easy Coleslaw Recipe for the 4th!
---
Got questions? Martha Boyd has all sorts of answers. A desert-dweller, self-proclaimed crazy cat lady, former LAPD officer and widow to a Green Beret, she's seen and heard things crazier than you've imagined. And is ready for whatever odd questions you have, so bring them on!
Hi all, it is Thursday again and we are almost at the 4th of July. Hope you all have a good and safe holiday. Out here we have celebrations starting on July 3 up in Landers at Homestead Valley park. They have food, beer, bands and fireworks. Then on the 4th, both the City of 29 Palms and Yucca Valley do the same. LYT and Julia were going to be here for the holiday, but she could not get off work so I will most likely just watch the Capital 4th on our local PBS station. We also have the 1st Saturday breakfast at Copper Mountain so I will be attending that, but I luckily have several friends that go have the breakfast. Not much fun to go out when you are by yourself.
Last week I wandered down to Anaheim to take 2 continuing education classes for my appraisal license. We have to take 56 hours every 4 years. This killed off 14 hours and next month I will take a 7 hr in Palm Springs. Such fun. The classes were really small the first day – only 12 and the second day only 8 people in the class. However a small group does give more time for discussion of any and all appraisal topics. These classes tend to cover the material, but also get off track somewhat as there are lots of other appraisal topics that get brought up and you can bounce things off other folks in the biz. I stayed at my mom's house and she packed my lunch each day; been 40+ years since she did that on a regular basis.
The questions were sort of light this week. So I guess I will have to find lots of pictures to entertain you all with. First, here we go on your questions.
John Zoidberg:
Question: have you ever been to SDCC before? What about any other really big conventions similar in nature?
I do Comic Con thru LYT. The only fan type convention I have ever been lucky enough to go to was a few years back in Los Angeles and it was the Dark Shadows convention. I'm a big DS fan and I was so happy to see Mr. Jonathan Frid at one of his last fan meet and greets. I got a lot of autographs and they are all hanging up in the entry hall at the house. Yep, Dark Shadows, along with several other shows, are featured in the entry way at the house – hey, it's different and not your normal pics at the TR desert hide out.
Patch Ninetynine:
Summer is here so the wife and kids are home and it seems like the summer is slipping away. How can I slow it down and find more time to enjoy with them.
( I have cut back my TR habit to just scanning the page a couple of times a day)
Down to a couple of times a day? I'm at every couple of hours. But school will start again soon and you can get back to normal. Yes, summer does go by so quickly. Especially for the kids, teachers etc. I generally found that my parents thought we had to much summer time off. They usually found a way that gramma and grampa got at least a month of dealing with me. The time with the grandparents always seemed to go so fast as we always did fun things and generally involved at least one amusement park.
Sometimes it is fun just to turn off all of the gadgets, play family game night, go bike riding etc. When I was little we went to a lake and stayed in a cabin for a couple of weeks, no tv, radio etc. This was before internet. Days seemed pretty long then.
Patch Ninetynine:
Cooking Question.
I ran into a Cajun in Houston who loves cooking and he told me to try fried cabbage. He said add a little olive oil to a pan and just keep adding cabbage and pepper and let it cook down. He said it doesn't stink like boiled cabbage.
I had never heard of it. Have you ever tried it?
Yes and it is good – you should give it a try. It is good in stir fry also; you just shred it – yummy. I loved boiled cabbage and I really don't think boiled cabbage is all that stinky. I love my boiled cabbage with butter, salt and pepper. Of course corn beef and cabbage is always great. So I make cabbage in various formats. Boiled, fried and even in slaw. Just in time for the 4th here is my slaw receipe
1 head cabbage, ( I use the green cabbage) you need to chop this finely, salt, pepper to taste. Chopped onion about a ? of a medium onion. Mix it with Helmans (Best Foods) mayo and then add a couple of table spoons of sugar. You can up and down on the sugar depending on how sweat you like the slaw. The sugar goes in last, just before you serve as it tends to break down the mayo. I have also added some poppy seed dressing with the mayo and it gives it a different taste.
James Polk:
Question: is "bag of snakes" a typo or an intentional word swappage? Because I am completely amused by the mental image of carrying a bag of snakes to a training class.
Totally a typo. Snacks was the correct word. Boy, did I need those snacks, but snakes sure would have kept us awake in the class. The teacher was good and we did have some good discussion, it was just that the topics were so boring!!!!!!!!!!!!!!
I'm not terribly into snakes. Was on a job the other day and one wandered across my path. At least it was only a gopher snake and not a copperhead. But he was still about 4 feet long and looked pretty healthy.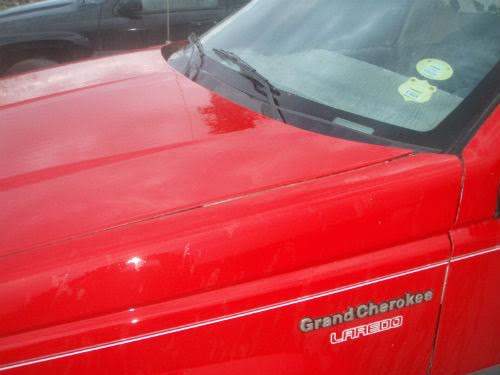 Well at the top of the questions I said I was going to have to give you pictures this week. Last week they were fire pictures. This week – weather pictures!!!!!. Hey last week we were burning; this week rain. I know the pictures will be scattered around, as LYT handles the picture placement, and I just send the files. So nice to see the rain, all of my trees are doing the happy dance in the yard. At my house we got several hours of nice gentle rain so it soaked in. Sometimes we get downpours and a lot of that runs off, but even that is ok as it does get into the water table. Today the "dry" lake that I can see from the house has water in it. I have windows open and the kitties are getting to smell the rain air which is a treat. They are not quite sure on what to do with the thunder. I went out in the rain and took some random pictures for you. My jeep, pool, rock table and a small fireplace with water spots. It is sort of hard to photograph clear rain drops.
I have run out of random things to say for this week. For the 3rd I will be volunteering at the department this week. We are semi-closed at the lobby, but the phones will ring and we still have to get the jail visit list done, just no citizens will be coming into the lobby. Anyway be good to each other this next week. Have a safe and sane 4th of July and until next week, as always, Huggs.
Got questions for Martha? On life, love, nerdy nitpickery and anything else? You can either post them below in comments, or email them directly to boydappraisal at yahoo.com. Nothing is off the table, so give it your best inquiry.