9 Lessons Learned at Adult Swim's Potentially Touring Drive-In Event
---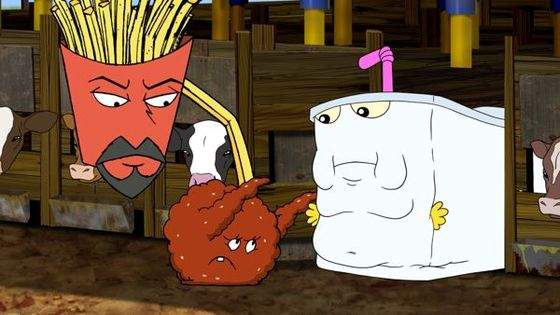 Adult Swim
Adult Swim favorites appeared on screen at the network's drive-in event.
Last Thursday night, Adult Swim brought the mighty drive-in theater back with a free Los Angeles-area event. From the looks of it, the late night network might be bringing this 20th century experience to a town near you sometime in the future. Everyone received a feedback form with questions like whether or not we wanted to see the event tour.
I was expecting the event to have the carnival-like atmosphere of Adult Swim's last San Diego Comic-Con extravaganza, where throngs of people filtered through a funhouse, a crazy, animated dome show and some wild panels. However, this event was much more subdued. The network took over a small portion of the parking lot at Santa Monica Civic Center, set up an inflatable screen and took over a radio station. Attendees could choose to either reserve a parking space for their party or take seats on the fake lawn that was rolled out in front of the screen. Food trucks offered free grub. People had the chance to win prizes in a trivia contest. Plus, we all got to see some programming that hasn't aired yet. Here's a run-down of what happened.
(This post contains spoilers for various Adult Swim series.)
1. Drive-Ins and Adult Swim Go Well Together.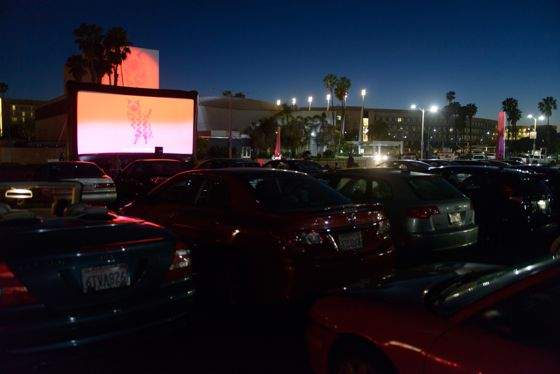 Photo by David Morrison (Courtesy of Adult Swim)
I'm old enough to have a nostalgic fondness for drive-ins. My parents would pack up my siblings and I into the car on weekend and vacation nights to check out fun flicks of the 1980s, like Return of the Jedi and Who Framed Roger Rabbit? By the end of the century, though, the drive-in had gone the way of VCRs and cassette players. In Los Angeles, if you want to check out a movie without leaving your car, you have to drive pretty far out into the suburbs to hit up one of the few remaining theaters.
Nostalgia aside, I still think the drive-in superior. You can talk without bothering anyone. You can make-out with your date or pig out on junk food in relative privacy, yet it's more of an experience than vegging out in front of the TV as you scroll through the latest Netflix additions.
Adult Swim programming fits perfectly into the drive-in situation. They're weird shows meant for late-night viewing and "Did you just see what I saw?" moments of confusion. Unlike theater screenings, you don't have to wait until you leave the venue to try to figure out what you just saw. Just roll up the windows before you start gabbing.
2. The Trivia Contest Was Unexpected.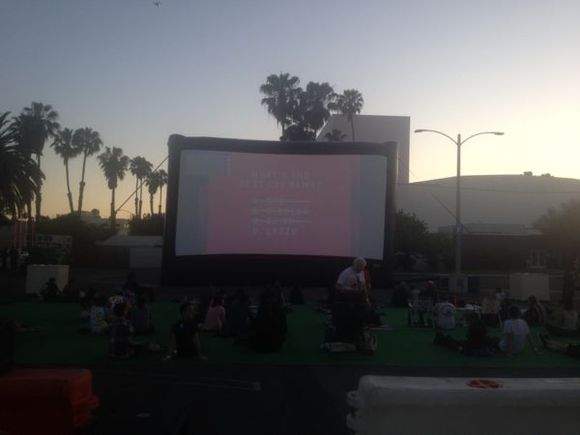 Liz Ohanesian
Trivia contests took place as people were settling into the drive-in.
You might expect Adult Swim trivia contests to revolve around minutiae from The Venture Bros., but your in-depth knowledge of Rusty Venture's childhood adventures and Dr. Mrs. the Monarch's previous identities are useless here. If you wanted to ace this quiz, you should have studied up on cats and drive-ins. The most Adult Swim-centric question I heard was "What's the best cat name?" The answer is Lazzo, which is the last name of the network's executive vice-president.
We tested our knowledge in the car, shouting out answers and high-fiving when correctly guessing that The Battleship Potemkin was the first flick shown at a drive-in. We learned that, in the time of Henry of Saxony, felicide came with a price tag in bushels of corn and that the drive-ins of the past were also known as "passion pits." Hey, if you're going to sit around waiting for a sneak peek of Rick and Morty, you might as well learn something while you're at it.
3. We Might Have Just Seen the Best Episode of Childrens Hospital Ever.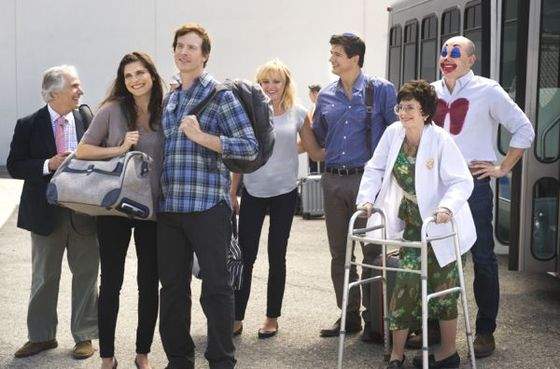 Adult Swim

Childrens Hospital is one of the big hits for Adult Swim, with a super-hip cast led by The Daily Show alum Rob Corddry and a few Emmys under its belt. With the launch of the hospital drama spoof's sixth season, the image of a clown face on a pregnant belly has been inescapable in Los Angeles. I keep stumbling upon that poster at bus stops and, despite having no fear of clowns, it was really creeping me out. I thought I would skip this season just because I assumed that the episodes might make me cringe in the same way that this poster did.
However, there was no escaping Childrens Hospital at the drive-in and I'm glad I sat through the screening of "Just Like Cyrano de Bergerac." It's the best episode of the show that I have seen. Directed by Lake Bell, who plays Dr. Cat Black, the episode won't hit TV until April 24. You should, make time to sit down and watch this one.
The Cyrano de Bergerac plot is as played out as recycled stories about Christmas ghosts, but Childrens Hospital knows that. Unlike just about every other TV series that has borrowed liberally from Edmond Rostand's play, the characters point out how unoriginal the plot is before running with it.
Corddry's Dr. Blake Downs meets a woman at the hospital, but can't find the words – even the most basic phrases – to say to her. The Cyrano plot thickens as more and more people are called upon to deliver lines. By the end of the episode, the game of Telephone has spawned a chain of events that's more endearing that your typical Childrens Hospital episode.
4. Donald Glover Is In the Season Premiere of China, IL.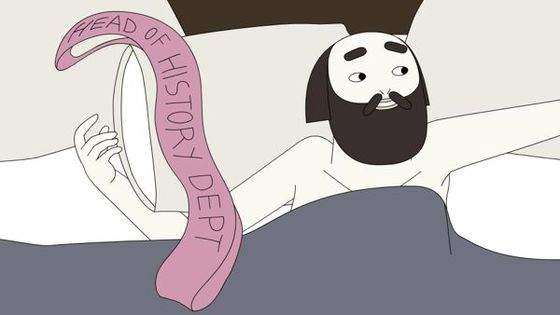 Adult Swim
China, IL, Brad Neely's animated comedy about a dysfunctional college, returns to Adult Swim on April 5. We were able to catch the season premiere episode Thursday night.
In its first two seasons, China, IL has rocked the talent of stars like Hulk Hogan (who plays the college's dean), Jeffrey Tambor and Hannibal Buress. The ear-catching voices will return to the show. Plus, people might be interested to know that actor/musician/all around funny guy Donald Glover turns up in "A Gentleman's Bet," set to air as the April 5 premiere episode.
China, IL has grown in its ability to fill out a half-hour time slot as the show's central characters become attached to more involved plots. Frank and Steve Smith, the brothers and college professors around whom the show revolves, have made an incredibly creepy wager. They both select two students and the other brother must convince the pair that they should hook up. The stakes for the competition are high. If Frank wins, he gets Steve's job, car and apartment. Steve, set on his image as the "cooler brother" is a total sleazebag whose own creepiness may sabotage his chances of winning. Meanwhile, Ronald Reagan needs some help curbing overpopulation and calls in the Dean for assistance. Pony, Baby Cakes and a bunch of other students get drafted into the Dean's think tank.
Glover turns up as Transfer Billy, one of the students at the center of the professors' game.
5. We Got a Taste of Aqua Teen Forever.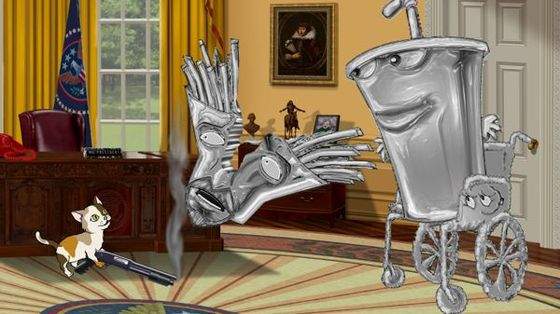 Adult Swim
Aqua Teen Forever is the latest set of adventures from Frylock, Master Shake and Meatwad. Set to premiere late this summer, the episode we saw was what you might expect from the characters that essentially made Adult Swim what it is today.
In their latest mishap, Frylock is in trouble and Master Shake reveals that he can't read. It's a "very special episode" set-up that takes as many bizarre turns as you can fit in an quarter-hour time slot. Shake's lack of reading skills is matched by his inability to drive. Meatwad, still the adorable charmer, succeeds where Shake doesn't. Meanwhile, a brain collector and booger collector pay the gang a visit. I thought it was grosser than normal for these characters, but that might depend on what turns your stomach. Boogers upset mine.

6. Rick and Morty Teaser Got the Crowd Amped for Season 2.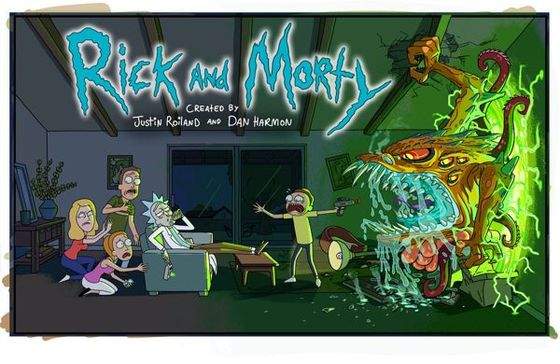 Adult Swim
The loudest cheers of the night came for Rick and Morty. Co-created by Dan Harmon and Justin Roiland, the show was an instant hit when it premiered on the network a little over a year ago. Fans will have to wait a while for the return of eccentric traveler, Rick, and his grandson Morty. Season 2 won't hit the air until this summer.
Until then, folks seemed content with the little slice of a space adventure that we caught on Thursday night. Since we didn't see a full episode, there's not a whole lot to report here. However, we did see Morty discover Rick's gig as an intergalactic arms dealer. Plus, Rick finds a way to deal with their travel companion – his son-in-law, Jerry – whose presence might lead to some very big problems.
7. The Only Good Hipster Jokes Come from Triumph.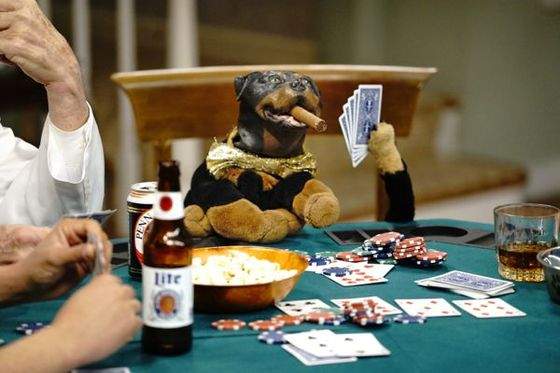 Adult Swim

Hipster jokes are tired, unless they come from Triumph. The Insult Comic Dog's cracks about kids in the coffee houses are nastier, and more to the point, than the Facebook comments from not-so-funny friends. Plus, Jack is around to counteract Triumph's assholery with kindness.
The Jack and Triumph Show premiered on Adult Swim last month, but the Drive-In event included a few clips from the new-ish show. Former child actor Jack (Jack McBrayer) and Triumph stumble upon the latest coffee fad in Jack's stool. Now they have to test it out amongst the hipsters. This episode already aired, but for those who don't have cable and end up playing catch-up later (i.e., yours truly), it's a good hook into the series.
8. The Music Is As Good as the TV.
One of the things I love about Adult Swim is that they make it a point to help promote new and unusual music. Their collaborations with record label Ghostly (one of my longtime favorite labels) are recommended listening. Similarly, the tunes that they played throughout the night were choice cuts of, frequently, cutting-edge electronic music from a mix made for the network by L.A.-based record label Innovative Leisure.
Dan Deacon may be a semi-familiar name to hardcore Adult Swim fans (and fans of electronic music). He previously collaborated with the network. Recently, though, multiple animators worked on a brilliant, stylistically varied video for Deacon's track "When I Was Done Dying" to appear on Off the Air. The video landed on YouTube a couple days ago, so make sure you watch it a few times. There's a lot to see here.
9. Adult Swim Threw in Extras From Off the Air and Your Pretty Face Is Going to Hell.
Screen grab from "Off the Air"
Off the Air is TV for DJs– a bunch of seemingly random clips that shouldn't go together, but are edited into one flawless set. Thursday night's selection was an oldie called "Space," that's filled with cats, Carl Sagan and other things the Internet loves.
Meanwhile, we caught a clip from Your Pretty Face Is Going to Hell, which returns for a second season this summer. Devilish jobs can tedious, but there are days when the gig is flat-out frustrating, like when there's an angel (played by Jack McBrayer) getting in the way of your evil-doing.
Like Aqua Teen and Rick and Morty, we didn't get an exact release date for this show's second season, but it will be sometime in the summer. It's beginning to look like Adult Swim's summer line-up will be worth catching. Hopefully, they'll bring back the drive-in too.
Previously by Liz Ohanesian
"10 Creepy Awesome Things We Saw at 'Son of Monsterpalooza'"
"8 Things We Learned at L.A.'s Anime-Centric EigaFest"
"8 Things I Learned at Power Morphicon 2014"

"The 18 Coolest Exclusives to Snag at San Diego Comic-Con 2014"
"20 Best Cosplays We Saw at Anime Expo 2014"
"14 Episodes of Highlander You Need to Watch"
"7 Lessons Learned From Watching Star Wars with Someone Who Never Saw It"
"9 Awesome Things You Might Not Know About Cartoon Network Studios"
"7 Reasons Why Marvel Superhero Movies Are Really Boring"
"10 Surprising Facts About Titmouse Animation Studio"