7 Awesome Things We Saw and Heard at the Saturn Awards
---
Liz Ohanesian
The Saturn Awards celebrated genre entertainment on June 25 in Los Angeles.
James Gunn, Richard Armitage and Melissa McBride were amongst stars of genre entertainment who were honored Thursday night at the 41st annual Saturn Awards. Essentially a Golden Globes for nerds, the event spotlights television and film of the sci-fi, fantasy and horror varieties.
The full list of winners is available online, but, to summarize, Interstellar and Guardians of the Galaxy were the favorites amongst the film nominees, while Hannibal, The Walking Dead, Game of Thrones and The Flash secured a good share of TV awards.
Judging from the crowd of autograph-hunters outside the venue late in the night, it was a good place to get a hold of your favorite cult entertainment stars from Barry Bostwick (Rocky Horror Picture Show) to Dawn Wells (Gilligan's Island). Cosplayers, most of whom were dressed in unusual variations of popular characters, were on hand for photo-ops. Read more on who we saw and what we heard at the event.
1. Yvette Nicole Brown Is the Coolest Person on the Red Carpet.

Liz Ohanesian
Yvette Nicole Brown (Community) hosted the Saturn Awards and was a delight on the red carpet.
The red carpet is a strange place. If you can talk to someone, you might get a minute or two in a crowded space, surrounded by others who also want to ask questions. Nerd bonding moments are rare here. This is why I want to nominate Yvette Nicole Brown, formerly of Community, now of The Odd Couple, as the coolest person on the red carpet.
Brown is a Star Wars fan and has a soft spot for Yoda. "He has become my talisman," she said. Brown has five Yodas in her office. Her favorite is a small one that dispenses wisdom – "It's like a Yoda fortune cookie." – and it's still in the box. She might want to see what it's worth someday, Brown explained, even though she doesn't intend on selling it.
We talked about our old Michael Jackson dolls. She has one that is now missing the microphone. I'm still upset that I managed to lose my doll's glove. Shout out to the people who didn't part with their '80s toys.
2. There's a Horror Anthology on the Way that Sounds Exciting.

Liz Ohanesian
Neil Marshall (Game of Thrones/em>) and Axelle Carolyn (Soulmate/em>) talked about their upcoming film project.
Director Neil Marshall was on hand at the Saturn Awards to accept the "Best Limited Television Series" award for Game of Thrones. With him was horror filmmaker Axelle Carolyn (the two are married) and they spoke about a new project that sounds frightening.
Tales of Halloween is a horror anthology featuring 10 stories and it's scheduled for release this October. Both directors will handle segments of the film. Carolyn is also one of the producers. She notes that there is a ton of talent involved in the project, like directors Darren Bousman (Saw II-IV) and Mike Mendez (Mega Spider), plus cameo appearances from a number of well-known figures in the genre.
As for the stories in Tales of Halloween, Marshall said that his is about "a killer pumpkin." Carolyn's piece is called "Grim Grinning Ghost." She explained, "It's about what happens on Halloween when you hear footsteps behind you.
Carolyn isn't a stranger to ghost stories. Her feature Soulmate is a gothic horror tale that I enjoyed immensely at Etheria Film Fest last year. (It's on Netflix now; check it out.) Guess I know what I'm doing this October.
3. The Exorcist Is (Sort of) Making a Comeback

Liz Ohanesian
Marcus Nispel (Texas Chainsaw Massacre) talked about his new movie, Exeter.
Marcus Nispel has rebooted well-known films The Texas Chainsaw Massacre, Friday the 13th and Conan the Barbarian. He's not remaking The Exorcist. However, his forthcoming film, Exeter, is inspired by the '70s horror classic.
On the red carpet, Nispel named The Exorcist as one of his favorite movies. "I decided at that point that there would never be another demonic possession movie and that was the final word," he said. "Now, it's become a trend and people dared to come out of the woodworks and dare to make them again."
His own movie, Exeter, is about young people who follow The Exorcist in order to dispel a demon. He described the film as "a do-it-yourself exorcism and an amateur hour."
While I've never been into meta-slasher flicks like Scream and Cabin in the Woods (that probably has something to do with not being a fan of the sub-genre), I am 100% down with seeing a heavily referential demon flick.

4. Saturn Awards Celebrates Cosplayers Too.

Liz Ohanesian
Frozen meets Star Wars at the Saturn Awards.
There's no Saturn Award for cosplayers, but the costumed folks were out in force throughout the event. They posed on the red carpet. One answered reporters' questions in the press room. Even the post-show DJ was in costume.
Early in the evening, I met Ashlynne Day and Matthew Eberle, from Anaheim, CA. They do a Frozen/Star Wars mash-up cosplay that is pretty darn cool. The idea started as a play on character names, where Han Solo becomes Hans Solo. While Day has made her own Elsa costumes in the past, she commissioned this Frozen Slave Leia from Jamin of Leia's Metal Bikini. "I don't know the first thing about molding stuff," she said.
If you haven't already seen these two at Wonder-Con or Star Wars Celebration, catch them at Anime Expo and San Diego Comic-Con.
5. James Gunn Accepts Three Awards in a Row.

Liz Ohanesian
James Gunn won big for Guardians of the Galaxy.
The awards weren't all his. Gunn picked up Chris Pratt's "Best Actor" prize for Guardians of the Galaxy. Of course, Gunn won an award himself for "Best Director." Moreover, Guardians of the Galaxy was named "Best Comic Book-to-Film." Add the movie's make-up artists two the prize list and Guardians of the Galaxy scored high at the Saturns. Only Interstellar won more awards.
As if to solidify his role as a Nerd King, Gunn eschewed typical award show attire for a cat sweatshirt. The fashion statement drew a lot of (positive) comments from reporters when he entered the press room, but it seemed like one journalist in the crowd wanted to know what will happen in the Guardians of the Galaxy sequel set for release in 2017. Gunn wasn't talking about that. "I don't want to ruin it," he told reporters.
6. The Lego Movie Wins.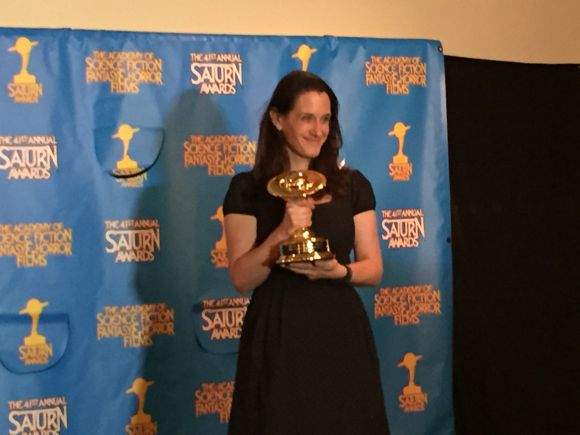 Liz Ohanesian
Executive Producer Allison Abbate shows the award for The Lego Movie.
When the Academy Award nominations were announced last year, fans were openly upset that The Lego Movie wasn't nominated for "Best Animated Feature." Not only was the film nominated at the Saturn Awards, it won. The Lego Movie beat out a Miyazaki-directed flick (The Wind Rises), the Oscar winner (Big Hero 6) and two other Academy Award nominees (The Boxtrolls and How to Train Your Dragon 2).
Maybe this is indicative of the difference between a genre-centric awards event and mainstream ones. Throughout the categories, the wins match up with what's being discussed in various fandoms more often than in the super-Hollywood sector.
7. The People Who Vote For Saturn Awards Seem to Like the Same TV Shows That You Do.

Liz Ohanesian
Grant Gustin won a Saturn for his turn as The Flash.
If Guardians of the Galaxy and The Lego Movie's wins don't drive home the point that the Saturns are given to nerds by nerds, then their TV picks certainly do. At the very least, the winners in the television categories were reflective of what my friends are constantly discussing on Facebook.
Hannibal's win for "Best Network Television Series" was, perhaps, a little bittersweet since NBC canceled the show just days before the Saturns. Actors Laurence Fishburn and Hugh Dancy also won for their roles in the show.
Naturally, Game of Thrones was a favorite. The HBO show was awarded "Best Television Presentation of a Limited Series." Also, fan-favorite Maisie Williams won "Best Younger TV Actor" for her portrayal of Arya Stark. Meanwhile, The Walking Dead was named "Best Syndicated/Cable Television Series," plus Andrew Lincoln and Melissa McBride picked up awards.
The "Best Superhero Adaptation Television Series" prize went to The Flash. Grant Gustin, who won "The Breakthrough Performance Award," was clearly excited when he spoke to the press, mentioning how far he has come since he took on the role of the superhero. He mentioned that he'll be bringing the role to Legends of Tomorrow as well. "I was unemployed a year-and-a-half ago," he said to reporters.
Previously by Liz Ohanesian
"9 Lessons Learned at Adult Swim's Potentially Touring Drive-In Event"
"10 Creepy Awesome Things We Saw at 'Son of Monsterpalooza'"
"8 Things We Learned at L.A.'s Anime-Centric EigaFest"
"8 Things I Learned at Power Morphicon 2014"

"The 18 Coolest Exclusives to Snag at San Diego Comic-Con 2014"
"20 Best Cosplays We Saw at Anime Expo 2014"
"14 Episodes of Highlander You Need to Watch"
"7 Lessons Learned From Watching Star Wars with Someone Who Never Saw It"
"9 Awesome Things You Might Not Know About Cartoon Network Studios"
"7 Reasons Why Marvel Superhero Movies Are Really Boring"
"10 Surprising Facts About Titmouse Animation Studio"