Getting an Up-Close Look at 8 Amazing New Virtual Reality Experiences
---
Liz Ohanesian
Virtual reality came in many different forms at VRLA.
VRLA Summer Expo wasn't the first event from the tech fiends at Virtual Reality Los Angeles, but it was a landmark one. The one-day convention was a sell-out, bringing in 2000 people, according to founder Cosmo Scharf in his opening remarks, to Los Angeles Convention Center. For this particular venue, which is home to behemoth events like Anime Expo and E3, that's not a lot of people. In fact, VRLA's crowd only occupied a few rooms in the sprawling, downtown Convention Center. However, it's a pretty impressive audience for a technology that's not yet in the hands of the public at large. While Google Cardboard products are available for purchase, and Mattel's VR View-Master is slated for a fall release, the much-hyped Oculus Rift isn't slated for release until next year.
It's only been in the past year or so that I've been exploring VR as a fan. I've been to a handful of events, including VRLA's Proto Awards last year, and the Summer Expo was certainly the biggest and most exciting one I attended. Although the show floor was small, it was packed with everything from games to medical programs that incorporate VR technology. From cartoon battlefields to the human brain, there are a lot of places you can visit in virtual reality. Here are eight.
1. Inside a TV Show.

Courtesy of Mirada
I don't watch FX series The Strain, on account of not having cable, but I stepped inside the world at VRLA. L.A.-based company Mirada created a VR companion piece for San Diego Comic-Con. While it may be available for a wide audience in the future, right now you can only try it at special events.
Andy Cochrane, Digital/Interactive Director for Mirada, refers to the project as "immersive cinema" and says that the company has been contacted by various networks and studios to develop this kind of additional media. The Strain project is a really good use of VR, in that there are surprises – including some unnerving ones – with every turn of the head. When I looked down, I saw that I was virtually standing several feet high. The depth of the scene was intense.
Right now, VR can place you inside a scene and surround you with characters who will react to your presence. However, it's not fully interactive yet. I'm interested to see what might happen if the technology evolves to the point where you can address the characters and maybe elicit some sort of response. Maybe some day soon, we'll be able to curse out the characters we just can't stand.
2. A Personal Space You Share With Friends.

Liz Ohanesian
Beloola is a French company that is bringing social media into the world of virtual reality. Through their site, you make an avatar and build your own room, customizing it with your favorite content and access to your preferred social networks. You can chat with friends, enjoy anything from YouTube videos to sporting events together. "It's much more engaging," says Samuel Mound, the company's product and marketing manager. "It makes sense for being together in the same space."
The platform is already available, although not in the virtual reality form. I went through a basic demo and want to spend a little more time with this. Personally, I can't wait to spend quality time in with faraway friends in a virtual living room watching weirdo Internet videos.
3. Hang Out With a Band Inside Their Music Video.

Liz Ohanesian
Galvanized Soul is a band from Ventura County, not far from Los Angeles, who recently put out a virtual reality music video for their song "New Generation." It's definitely not like any clip that existed back in the heyday of MTV. If you stare straight forward, you see the band members engage in a variety of different situations. Look around, though, and you'll start to see the behind-the-scenes view.
"Doing this video is very different," says Galvanized Souls bassist Matthew Demartini. "The director has to turn on the camera and blow whistles to sync all the cameras and run off-set and hope for the best."
While VR videos aren't practical choices for bands, I can't help but get excited for the possibilities this has for music marketing. The 13-year-old Depeche Mode fanatic in me would have freaked out over the chance to feel like I was on the set for videos like "Personal Jesus" and "Enjoy the Silence."
4. Fight on a Cartoon Battlefield

Liz Ohanesian
World War Toons isn't a typical first-person shooter game. The art style is cartoon-y and not overly gory. There are visual gags galore. Also, it's in virtual reality. The game, which has been in development for a little over a year, will allow players to play with each other online, in VR, when it's released.
Making this kind of game presents a lot of different challenges, according to Reload Studios CEO James Chung. The big problem is the potential for motion sickness. Part of the way these developers have been able to get around that issue is by relying on the buttons and triggers on the controller instead the analog sticks. Chung and many others on the team previously worked on Call of Duty titles. This time around, though, they want to combine their knowledge of shooter games with influences like Tom & Jerry and Looney Tunes. It's a really fun game, even for someone like this writer who normally can't stand first-person shooter games.

5. Enter a Skull.

Liz Ohanesian
Cleveland, Ohio-based company Surgical Theater is changing how surgeons can use medical imaging for complicated procedures. The developers used their experience in flight simulation to help create 3D versions of images that help doctors explain and plan brain surgeries.
Glenn Davis, VP of Marketing for Surgical Theater, took me on a tour of inside the skull where a tumor at its base needed to be removed. I was able to look at the tumor from various different angles and Davis explained that this method – which is FDA approved and has been through 800 clinical cases – allows surgeons to see different perspectives that might not be visible in flat images. "It's almost like being able to see the dark side of the moon," he says.
Surgical Theater has only been working on the VR applications for a few months, but there's a lot of potential for what this technology can accomplish in the medical world.
6. Step Into the Head of a Musician.

Liz Ohanesian
L.A.-based Kite & Lightning worked on a project for GE called Neuro. In it, you can gain some insight into a musician's head. Brian Dodge of the company says that it's a "fantastical trip," as well as an educational experience that uses the sort of data one would acquire from an MR.
This is the one experience that I really wanted to try, but didn't. When I stopped by the booth late in the day, the wait-list for the demo was so long that I was told that probably wouldn't be enough time to accommodate the people who were already on it. Alas, I don't know what it's like inside a musician's mind. I imagine it would be a messy as a tour van, but I still want to see it.
7. Visit the Grand Canyon.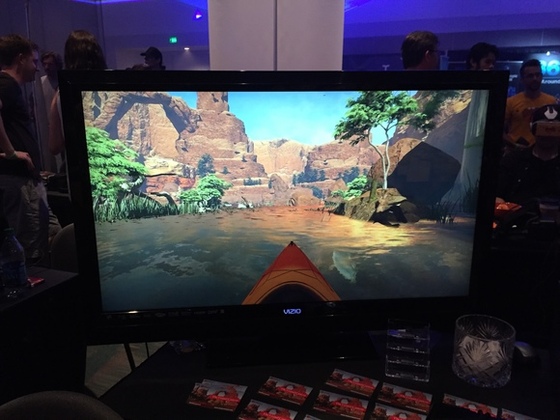 Liz Ohanesian
Jeroen Van Den Bosch is a veteran of the gaming industry with a longtime passion for VR. However, it wasn't until he met Oculus founder Palmer Luckey that he was able to put his interest into action. "It's such a powerful new medium," says Van Den Bosch. "Instead of making a movie or making a video game, let's make a living world that you can visit in virtual reality."
His company, Immersive Entertainment, did that with The Grand Canyon Experience. In it, you travel down the canyon river on a soothing journey. It's designed so that the trip doesn't repeat. Van Den Bosch mentions the wildlife that appears in the game as an example of this approach. The animals are designed at different stages in life and AI essentially dictates which creature will appear where on each trip. He points out that this is an "artistic representation" of the Grand Canyon that brings together highlights of the journey to eliminate the stretches of a trip where scenery remains largely unchanged. For the demo, they inserted a fan into the gear to simulate a river breeze.
8. Enter the Prehistoric Era.

Courtesy of Mirage 3D
Based in the Netherlands, Mirage 3D makes those really cool films that play on the domes of planetariums. Now they're venturing into the world of virtual reality too. When I visited the company's booth, I checked out a VR trailers for Dinosaurs at Dusk. One was pretty meta. I appeared to be inside a theater with a few other people watching the trailer for the film on a screen. In the other clip, though, I entered the prehistoric scene, watching a large, winged beast in flight.
This is the kind of VR work I want to see over and over again. Being part of the generation that spent class time playing Oregon Trail and Where in the World is Carmen Sandiego, I have a soft spot for fun and educational uses of technology. Can you imagine the excitement of entering the world of dinosaurs, or heading into outer space, through virtual reality during class? I certainly wouldn't be counting down the minutes until recess.
Previously by Liz Ohanesian
"7 Things We Want to See in a Xena: Warrior Princess Reboot"
"7 Awesome Things We Saw and Heard at the Saturn Awards"
"9 Lessons Learned at Adult Swim's Potentially Touring Drive-In Event"
"10 Creepy Awesome Things We Saw at 'Son of Monsterpalooza'"
"8 Things We Learned at L.A.'s Anime-Centric EigaFest"
"8 Things I Learned at Power Morphicon 2014"

"The 18 Coolest Exclusives to Snag at San Diego Comic-Con 2014"
"20 Best Cosplays We Saw at Anime Expo 2014"
"14 Episodes of Highlander You Need to Watch"
"7 Lessons Learned From Watching Star Wars with Someone Who Never Saw It"
"9 Awesome Things You Might Not Know About Cartoon Network Studios"
"7 Reasons Why Marvel Superhero Movies Are Really Boring"
"10 Surprising Facts About Titmouse Animation Studio"