10 Things That Sparked Our Attention at Anime Expo 2015
---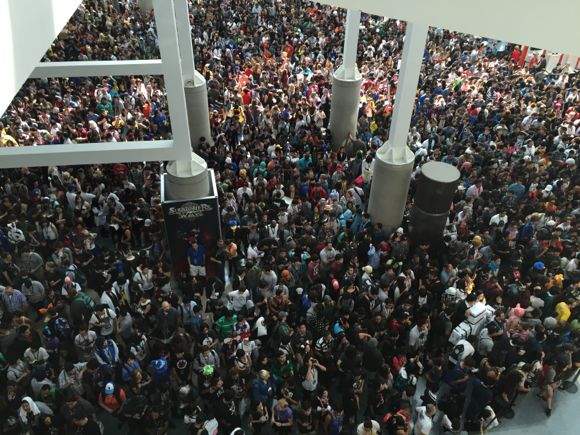 Liz Ohanesian
Los Angeles Convention Center's South Hall before the Exhibit Hall opened.
Anime Expo settled into its annual home, Los Angeles Convention Center, over Fourth of July weekend, bringing in Japanese pop culture fanatics from far beyond Southern California for four days of nerdery. I have attended every AX since 2008, which isn't that long considering that the mega-con will celebrate its 20th anniversary next year. However, I've attended enough times to learn to never have any expectations about the event.
Anime Expo is constantly evolving, both as trends in anime shift and as new generations of fans enter the convention world. When I started attending the convention, the love for series like The Melancholy of Haruhi Suzumiya and Ouran High School Host Club were strong. In the years that followed, that love has shifted over and over again. I'm not quite sure what was the hit anime this year, although there seemed to be a lot of fans of Tokyo Ghoul roaming the halls. I can't keep up with the anime crowd. Heck, I didn't know what "shipping" meant until earlier this year and I'm still not sure why the kids are so into pastel alpacas.
Still, some things will stay the same. There will always be a point where the crowd and heat become too much handle and a point where you're overjoyed with everything you've seen and heard. Here's my round-up of the weekend.
1. Gudetama Comes to Anime Expo and Wins Over the Crowd With Apathy.

Liz Ohanesian
Gudetama appeared at Anime Expo in a restaurant-themed booth.
Over at Sanrio's booth, an oversized, anthropomorphic egg yolk reclined in a broken shell. (And, yes, I was told, there was a real human inside the costume.) On the walls were images of apathetic eggs in various stages of meal preparation, surrounding by phrases like "I can't…" and "Can I go now?" My personal favorite was the a yolk lethargically laying next to a broken shell under the word "Disengaged." Meet Gudetama, the latest Sanrio character to make it to the United States.
Gudetama might be the company's finest achievement yet, a voice for a generation that "just can't even." David Marchi, Senior Director of Brand Management and Marketing for Sanrio says that the "lazy egg" has a story that's a bit more complex than what's on the surface. "It's not just one egg," says Marchi. "It is the spirit of an egg that can inhabit any kind of eggs."
Like humans, Gudetama deals with mortality. "Gudetama knows that eventually it will be consumed or eaten," says Marchi. "Once it's eaten, it's gone, but there's always a new Gudetama inhabiting a new egg." Bet you weren't expecting absurdism from the company that brought you Hello Kitty and Badtz Maru.
Gudetama is one character and many characters. The egg can be male or female. Gudetama's appearance at Anime Expo was the character's big public appearance outside of Sanrio's own channels. "It's just the perfect ground to spread his message of laziness to the world," says Marchi.
Gudetama will appear on Sanrio school supplies, as well as egg cups, plates and other items. At Anime Expo, they were giving out Gudetama buttons and chopsticks. Maybe others converted to the cult as quickly as I did – bacon blankies forever!
2. Voltage Is Making Romance Apps Specifically for the U.S. Market.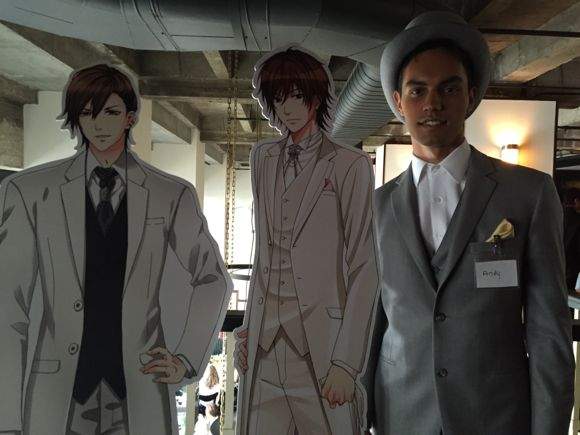 Liz Ohanesian
Ready for romance apps at a Voltage press event.
Voltage is a company that specializes in "romance apps." These are choose-your-own-adventure stories that you can play on your phone. The target audience is women and the apps run the gamut from supernatural to rom-com to drama. One thing, though, remains the same; you play as a woman who must choose between several archetypal male characters who want your affection.
Last year, I wrote about Voltage apps for L.A. Weekly and, this year, I returned to their booth, and a press event held the day before AX opened, to see what new games they have in store. On July 15, the company will launch it's new line of apps, Amemix, with Labyrinths of Astoria. Where previous apps were Japanese stories translated into English, Amemix titles are made with the U.S. audience in mind. Labyrinths of Astoria follows the template of previous Voltage titles, but the setting for this story is in New York and the cultural references for the supernatural saga come from Greek mythology. "It's a hybrid of what we think is the best of both worlds," says Michael Nakada, who produced this app. We also learned that Voltage will unveil a free game later this summer.
One thing to note about romance apps is that they're hard to quit. Once you get into the game, you'll start getting reminders that look like creepy text messages. You'll think, "Ew, who is that guy?" before realizing that it's from a character in a game. Then you end up sucked back into the story.
3. Porter Robinson and Anamanaguchi Played Anime Expo. It Was Awesome.

Liz Ohanesian
Porter Robinson talks anime at the Crunchyroll booth.
A few weeks ago, I went to Electric Daisy Carnival, which is a massive electronic music festival in Las Vegas. It was amazing and, while I was there, I kept thinking about the overlap between nerd culture and rave culture. This has always existed to an extent, but it is really obvious when you're dancing in a crowd of people wearing Pok?mon accessories and holding Tina Belcher signs.
Clearly, Crunchyroll sees the connection between the two groups as well. On Friday night, the anime-centric streaming site hosted a concert at Microsoft Theater (formerly Nokia Theater), next to the convention center, featuring Anamanaguchi and Porter Robinson. The former, you might recall from their work on Scott Pilgrim vs. the World: The Game. They started out as an instrumental, chiptune-leaning outfit, but have expanded their use of electronic music instruments and, occasionally, add guest vocals to the tunes. They aren't strangers to the convention scene either. Previously, the group has played PAX and drummer Luke Silas once DJed at Anime Boston.
Porter Robinson is a big deal in the EDM world. He has a residency at Marquee in Las Vegas and is one of the headliners for HARD Summer this August. He's also into anime and turned up at Crunchyroll's booth to talk about what he is watching. Plus, he worked with Vocaloid software on his last album, Worlds, even doing a human-computer duet on the track "Sad Machine." (Anamanaguchi remixed that one too.)
Both played sets that were accompanied by eye-catching videos that combined elements of anime, video games and nightclub visuals. It wasn't simply a concert featuring well-established artists; these were known acts who do fit into the world of Anime Expo.
Is this a sign that the ravers and anime nerds will soon form a united front, bringing PLUR and kawaii to a world that really needs it? One can only hope.
4. Boruto, Monster Musume and More Anime Announcements.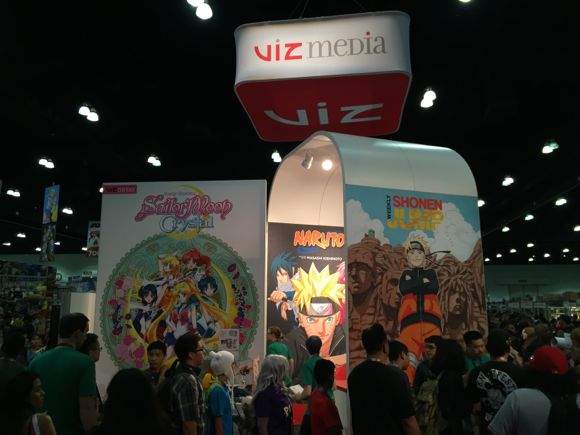 Liz Ohanesian
Viz made announcements regarding Sailor Moon and Naruto at Anime Expo.
As always, anime and manga companies showed up at the weekend convention with plenty of news for fans. At Saturday morning's "Crunchyroll Industry Panel," the streaming site gave a short rundown of some of the titles that are coming to their network. Some, like Teekyu 5 and Non Non Biyori, start streaming on Monday. Also launching this week are Monster Musume, which starts on July 7 at 9:30 a.m. To Love Ru Darkness 2 premieres the following day at 1 p.m. Also, Gatchaman Crowds Insight began streaming on the day of the panel, July 4.
Crunchyroll reps also announced the Million Doll, which is about bloggers covering the idol scene, and Symphogear GX, the third season of the series, are coming to the site. A new mystery series called The Perfect Insider, debuts in October. Of the announcements, the crowd seemed most excited about Monster Musume, which is about a guy surrounded by hot, female monsters. I'm more excited about Million Doll. Give me fictional blogger battles to make up for the real ones I will do anything to avoid.
Later that afternoon, the Viz Media panel covered some of the announcements made earlier in the convention. Boruto: The Naruto Movie is set to premiere at New York Comic-Con and will be heading to theaters this fall. On the Sailor Moon front, Viz announced new cast members for the dub of Sailor Moon S. Keith Silverstein, who already voices Kenji Tsukino (Usagi's dad), will take on the role of Professor Tomoe. Erica Mendez is stepping in as Sailor Uranus. Lauren Landa will take on the role of Sailor Neptune and Christine Marie Cabanos will handle the dub of Sailor Saturn.
5. There Appeared to Be Less Cosplay This Year, but That's Not So Bad.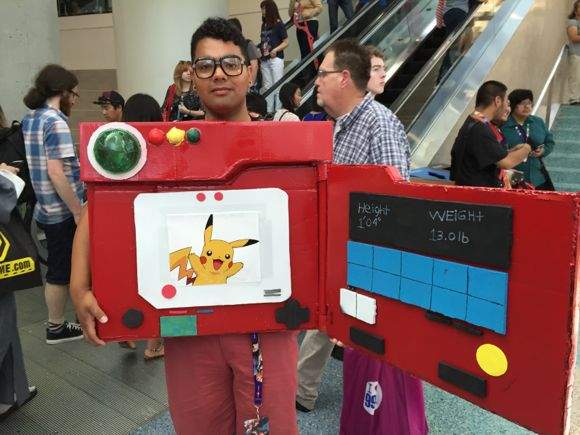 Liz Ohanesian
It wasn't all cosplay at AX, but some people did wear clever costumes.
Anime Expo has a reputation for attracting lots of cosplayers and, in the past couple years, it seemed like there were more people in costumes than regular clothes. This year, though, that wasn't the case. Sure, the cosplay scene picked up momentum on Saturday afternoon, but that's typical. One Twitter pal suspected that this may be because there wasn't a big anime cosplay hit this year. Maybe there's something to that, but, in previous years that lacked an Attack on Titan or Kill la Kill, fans gravitated towards shows like Adventure Time or My Little Pony: Friendship Is Magic. I'm starting to wonder if people are growing weary of wasting their con posing for every camera-wielding passerby.
That leads to the benefit of less cosplay. This year, it was possible to walk through exhibit hall aisles and even some of the convention center hallways without stopping every five seconds because the dude in front of you just has to get a picture of the cosplayer in a bikini top right this second. Take mental pictures, people, and keep the crowd moving.
6. The Lines Made Less Sense This Year.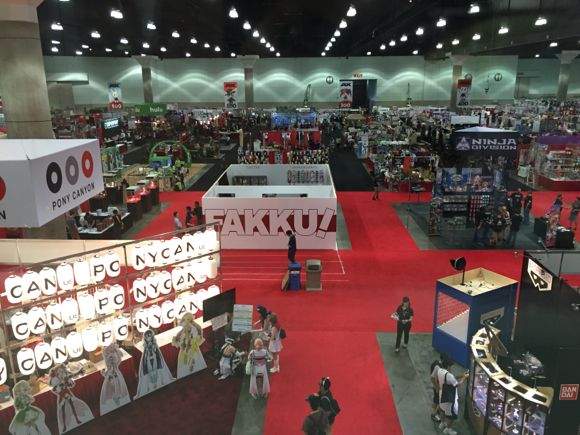 Liz Ohanesian
The calm before the lines (at least in the exhibit hall).
Making up for the cosplay photo-related gridlock were lines. You're probably thinking, "It's a convention, of course there are lines," as though this is something we should expect. To an extent, that's true. However, there's a reason that people refer to AX as "Line Con" and some of it makes no sense at all.
For example, do we really need to stand in line every time we enter the Convention Center so that security can barely glance inside our bags? I suspect that the answer is no since this doesn't happen at the other cons I attend.
Then there are the lines on the outdoor walkway that connects South Hall and West Hall. These lines cannot move without blocking foot traffic. Those trying to get to through this area were greeted by a volunteer, frequently with arms outstretched in the "You shall not pass" position. When the presence of a line backs up traffic for people who aren't in said line, there's a design flaw; and when the folks with the staff badges start acting like Gandalf, well, you know you're amongst nerds.
7. When You're Frustrated With the Crowds and Lines, You'll Find Something Cool.

Liz Ohanesian
AcoustiKaraoke at Anime Expo
When the Saturday afternoon crowd swelled to the point of frustration, the urge to leave was strong. Instead, I chose to wander and found corridors and staircases that few in the convention hall use. These routes are now like my short-cuts across Los Angeles or the map of free street parking that exists in my head and I vow to keep them secret.
The best discovery, though, was AcousiKaraoke. Anime Expo's karaoke room (now multiple rooms) is familiar terrain for me, as a friend of mine staffs it and I judged a competition there a few years back. This specific competition, though, was new to me and it was a delight. People bring in instruments (not necessarily acoustic ones, despite the name). Sometimes they'll play a backing track off their phones. They do covers of anime songs and radio songs. Sometimes they'll change up the lyrics. It's not always good, but, when it is, it's really exciting. The winners for this competition included a guy who played an EWI (electric wind instrument), which prompted one person in the crowd crowd to ask, "What is that?"
Conventions are at their best when you can roam the halls and happen upon something interesting. With a con the size of Anime Expo, that happens often, even if you have been attending for years.
8. Companies Want Your Attention at Anime Expo, and They're Doing a Good Job Trying.

Liz Ohanesian
The Rilakkuma booth at Anime Expo resembled a living room and bedroom.
This year, Miki Yoshikawa, creator of the popular manga series Yamada-kun and the Seven Witches, was a guest at Anime Expo. To coincide with that Kodansha Comics released an app through which readers could download issues of the manga. There is also a "virtual autograph" in the app and those at Anime Expo could present the autograph at the publisher's booth to get a prize.
As Anime Expo has grown in size and become a major destination for fans of Japanese pop culture, companies are stepping up their games when it comes to grabbing the fans' attention. The booths in the exhibit hall grow more elaborate every year and are starting to resemble what we see at San Diego Comic-Con, with spaces for photo ops and teams ready to hand out swag. The spectacle wasn't limited to the exhibit all either. Outside of the convention center, Sentai Filmworks set up a large and creepy photo station promoting Parasyte, which heads to Adult Swim's Toonami block this fall.
Still, Anime Expo hasn't hit that point where it's just about the spectacle. One of the most crowded sections of the exhibit all was the artist alley. While some of what you'll find here is fairly standard anime con fan art, some of the artists here were doing really interesting work, like Allison Stanley, a Texas-based artist who makes incredibly detailed ink drawings, and Minnesota-based Trungles, whose zine filled with illustrations of mermaids was my must-buy purchase this year.
The amount of cool things inside the exhibit hall was overwhelming this year and probably triggered many an internal argument. Do I really need this cash for an overpriced food truck lunch, or should I buy cat stationery?
9. Neon Genesis Evangelion Turns 20.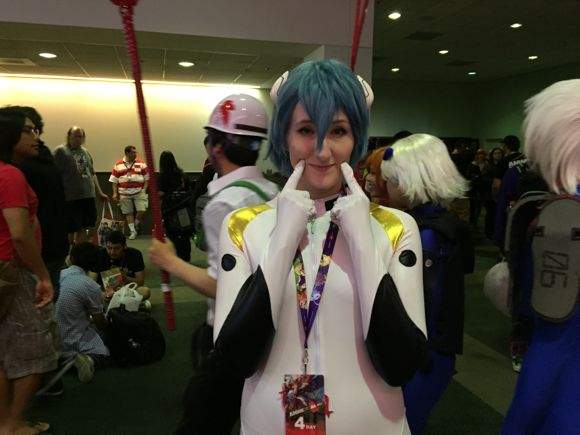 Liz Ohanesian
Evangelion cosplayers turned up for the show's 20th anniversary event.
Neon Genesis Evangelion turns 20 this year and Bang Zoom Entertainment, a company that has handled the dubs for plenty of anime, hosted a major event on Sunday to celebrate. At the center of the show was Yoko Takahashi, who sang the show's theme song. Unfortunately, no photos were allowed, so we couldn't snap any pics of Takahashi in her gorgeous costume. She came out on stage in a long gown, large wings and a gorgeous headpiece that included long horns on top. For some songs, she performed with dancers. For a few others, she played with L.A. band Alice Underground and cellist Eru Matsumoto. As one might expect, the crowd went wild for Evangelion tunes like "A Cruel Angel's Thesis" and "Fly Me to the Moon." Fans of Evangelion music might be excited to learn that the first soundtrack album was remastered and will be released on vinyl in the U.S. on September 9.
After Takahashi's concert, U.S. dub voice actors Tiffany Grant (Asuka), Amanda Winn-Lee (Rei) and Matt Greenfield, who voiced the Evas, came out on stage to say hi to the crowd and share a couple anecdotes. Winn-Lee and Takahashi went on to judge a cosplay contest. This was the last event in the main hall before closing ceremonies and it was great to end the con with a tribute to an anime series that played a major role in building the fan community in the United States. In a convention world where Attack on Titan is now considered old, that's a special moment.
10. I Did All That Walking Just to Become a Couch Potato Again.

Liz Ohanesian
I'll be lounging like Gudetama after Anime Expo.
There was a time when I would watched anime constantly. During Anime Expo, I would come home every night and start marathoning whatever show I had heard about that day. That's not the case anymore, mostly due to a lack of time than a lack of interest. Still, I came out of the convention with a list of things I need to watch. Some are series that have been out for a couple years. Some are airing now. Some will be out in the coming months. I will probably have a enough anime in my various cues to last a few months.
Therein lies the irony of Anime Expo. It's a massive event that will keep you on your toes for four straight days, working out more leg muscles than you might do in a week at the gym. All that exercise, though, barely makes up for the next few weeks you'll spend as an anime-addicted couch potato.
Previously by Liz Ohanesian
"7 Awesome Things We Saw and Heard at the Saturn Awards"
"9 Lessons Learned at Adult Swim's Potentially Touring Drive-In Event"
"10 Creepy Awesome Things We Saw at 'Son of Monsterpalooza'"
"8 Things We Learned at L.A.'s Anime-Centric EigaFest"
"8 Things I Learned at Power Morphicon 2014"

"The 18 Coolest Exclusives to Snag at San Diego Comic-Con 2014"
"20 Best Cosplays We Saw at Anime Expo 2014"
"14 Episodes of Highlander You Need to Watch"
"7 Lessons Learned From Watching Star Wars with Someone Who Never Saw It"
"9 Awesome Things You Might Not Know About Cartoon Network Studios"
"7 Reasons Why Marvel Superhero Movies Are Really Boring"
"10 Surprising Facts About Titmouse Animation Studio"